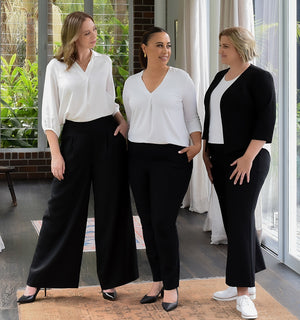 Your Guide to finding pants that do the hard work for you
Finding the most flattering pants for your size, height, and shape is one of the best things you can do to ground your style and send your confidence levels sky-high. Once you've found great fitting pants, you'll be able to create endless style combinations that help you feel as amazing as you look, and look as incredible as you are.
 Keep reading. These five tips will help you find the most flattering pants for your beautiful body.
Step 1. Size
Figuring out the right size pant is the best place to start. Our size guide will help you establish your own measurements with expert fit advice so that you can find the right size from the get go.
Once you have the measure and know what size you're looking for, you're in the best position to shop pant styles that work for you.
At L&F, our inclusive size range is fundamental to our brand ethos. whether you're a size 8, a size 24, or something in between, we believe all women should be able to shop well-fitting, well-designed pants with pride and pleasure.
Step 2. Shape
Different pant styles will flatter different body shapes in all the right ways. Finding the best silhouette and most flattering pants for your body is well worth the journey; you'll end up with a go-to pant style that makes you feel confident every time you wear them. 
When looking for the best pants for your body, consider the shape of the pant legs.
Wide Leg Pants are good for balancing curves.
Straight Leg Pants are good for streamlining the legs.
Flared Leg Pants offset curvy hips.
Slim Leg Pants are good for layering and accentuating slender legs.
We love the flexibility of jersey fabric as we're able to create a tailored look that works on various shapes.
Step 3. Height
Your height is an important factor to consider when choosing pants. Full-length pants for example, work to elongate the silhouette.
Cropped-length legs on the other other hand, flatter the figure by revealing the slimmest part of the legs. Maximise the effect by choosing a length that crops at the slimmest part of your leg.  
With a range of leg lengths in our pant collection, our cropped length pants work as full-length pants for petite height women.
Expert Tip: Pair the perfect fitting pants with a pair of nude heels to make your legs look even longer.
Step 4. Quality
Pants are one of the best investment pieces you can buy. For work or weekend, most of your outfits will be built around your pants, so investing in high-quality pants that are made to last will save you money as well as solving all of your wardrobe dilemas.
Fabric is an important indicator of quality. A good fabric will have a bit of weight to it; you should feel a little give when you stretch it gently, and there should be no obvious seam, colour, or thread issues. If you hold it up to the light, it should definitely not be transparent. 
Step 5. Function
As mentioned before, pants are an investment piece. You should aim for three main pairs of pants to serve various functions in your wardrobe.
A good pair of work pants is essential. Define your work wardrobe by shopping pants with structure. This could be a tailored waist and zip fastening or it could be a cropped leg cut that creates a dynamic silhouette.
Shop smart with your work pants and they'll double up for evening wear and your dinner-and-drinks wardrobe.
Outside of choosing pants for work, you need a stylish pant for everyday wear. Our dry-touch jersey adds ease-of-wear to pant styles so whether it's a wide-leg cut or a more tapered pant, you can be sure of all-day comfort. Make a style statement with printed pant style.
Soft waistbands are a great feature of leisure pants. Enhance the comfort factor with a relaxed crotch cut like the Tobie Pant or cut back on construction with the Indi Pant's single-seam legs.
When shopping for the most flattering pants, make sure they fit into these functions and that they work in more ways than one. 
Once you've found the style that suits your shape there's no need to reinvent the wheel. Grab a pair in different colours so that you can mix and match your separates with ease. 
Be Part of Our L&F Story
#LFShare