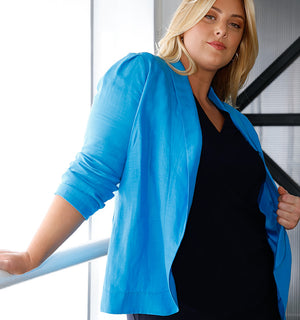 Made To Last - Fashion's Best Investment
The Fashion Styles To Invest In
What makes good fashion? In a fast-paced industry that changes colour, style and size on seasonal cycles, it can be hard to tell! This ever-rolling 'in with the new' mentality piles on the pressure, not just for designers and fashion brands, but for consumers too. In an industry that perpetuates the need for newness and desire for more, it's easy to get swept up in fashion's glossy promise.
Take worthy Fashion over
Sensational Fashion
So how can we define what makes worthy fashion? Is it innovative design? Good fit? Quality craftsmanship? Conscious construction? Wearbility? Affordability? Or a combination of all of the above? What's not cropping up on the list? Fluro pink, lemon yellow, [swap in the eye-catching 'it' colour of the season], hemlines that rise and fall every time some celebrity needs a new headline, anything that requires bearing a midriff…We don't love fashion for its sensationalism, we love it in spite of that. 
While fashion trends may be the consequence of intense creativity at the highest echelons of the industry, the idealism of inspiration is too often lost in translation as fast fashion turns over idea after idea in pursuit of commercial profit.
It may be a thrill in the moment, to walk into a store and walk out again with a shiny, new piece of clothing without denting the bank balance. But, when you've got your garment home and pushed it to the back of your wardrobe because a) it doesn't fit right, b)the fabric is cut poorly, or c) you can't remember why high-shine silver spandex seemed like something you'd ever wear, the sugar coated 'thrill' quickly dissolves to leave a bad taste.
Piece of Mind is Priceless
Fashion That's Worth Investing In
At Leina & Fleur, we keep good taste front of mind, both from an aesthetic perspective as well as a consumable one.
We believe in clothing that's made to last. Combining considered design with our fit expertise, L&F clothing is crafted to inspire confidence in the women who wear our product.
And our commitment to quality fabrics and a strong network of local, on-shore manufacturers ensures the longevity of our garments.
Through our in-house design and made-in-Australia ethos, we're able too, to be confident in the ethical and conscious practices undertaken to make L&F clothing. And while there will always be a price tag attached to our on-shore manufacturer, what comes with that is piece of mind. 
The trends and the cheap thrills are not what keep us coming back for more, it's all of the other things. The quality, the fit, the integrity not just of a single piece of clothing, but of a fashion brand itself, these are the things we'll buy into time and time again. And it's these qualities that serve us well as consumers.
Finding a well-cut wardrobe staple you know you can rely on has the power to not only change looks but moods, mindsets and moments too. For the busy woman, deciding what to wear is one less job on the to-do list, for the fashion innocent, it's the enabler into the club, for the body conscious woman, it can be the confidence cape she puts on to be a superwoman. What price tag do you put on that?
Investment Pieces Are Partners For Life
And when you've got relationships like that, you want them to last forever. Like a good marriage, a good investment piece will give you honeymoon joy, comfort when you want to feel at ease, certainty when you feel doubt, and that has the power to reignite love when you least expect it. Whether front of mind, or back of wardrobe, you want to know these pieces will stand the test of time and look just as good tomorrow and yonder as they do today.  So with that in mind what are key styles you should be investing in?
SHOP WELL-FITTING PANTS
The Classic Pant
Straight leg pants are eternally elegant. Wide leg cuts make for the most sophisticated silhouettes and they flatter all body shapes.
Soft or tailored, mid-rise trousers offer great wearability. Soft waistbands like that of the Monroe Pant offer enhanced versatility, with a comfort that translates for both smart and casual wear.
Soft Suiting that elevates
A Softly Tailored Jacket
A well-cut jacket will elevate any outfit. Rather than splurging on a suit, shop tailored separates that will allow for an array of mix and match possibilities that will cover you from work wear to jeans wear.
Soft tailoring jackets and jackets with stretch allow for greater ease of movement. They are much more comfortable than traditional, formal tailoring for desk work, too! A jacket like the Doyle Longline Blazer that features considered design details and a buggy lining all framed with a tuxedo collar, is a great way to elevate your look.
The Versatile Skirt Hero
Skirt Chic
Every woman needs a tube skirt! Slim-fitting and giving a slick silhouette that's perfect for workwear layering over, evening wear chic or casual cool, tube skirts are versatile wardrobe heroes. With their comfortable stretch fit and soft waistbands, tube skirts can be raised for a sleek, high-waisted look, or worn lower on the hips for a more casual feel.
The Wrap Dress
Investment Dress
A good wrap dress is a wardrobe must-have. Always appropriate, a wrap dress makes for good work wear, event dressing and smart casual wear. Plus, they're super comfortable!
Leina & Fleur wrap dresses feature figure-flattering tucks through the front, so whether you prefer full or straight skirt styles, you can be sure of a complimentary fit.
SHOP WRAP DRESSES
Explore Wrap Dress Style
Wrap dresses to wear anywhere and everywhere...
WRAP DRESSES ARE THE ULTIMATE
The 3 Key Top Styles
These 3 essential top styles form the basis of a good capsule wardrobe. Jersey tops are effortlessly easy to wear and with L&F's tailored details, they fit perfectly with a luxurious drape no T-shirt can offer.
The Work Top: With a modest V neckline and centre-front tuck, the Emily Top glides over the torso. With short sleeves, this top wears well under jackets, while the shirttail hemline allows for tucked and untucked style opportunities.
The Dress Top: Elevate your look with a flutter sleeve top. Whether in classic colours or bold print, flutter sleeve tops add instant style for smart casual wear.
The Bamboo Jersey Top: Lightweight, breathable and thermo-regulating, bamboo jersey also comes with a buttery handfeel that is luxurious against the skin. Comfortable for casual wear, L&F's tailored touches lift bamboo jersey tops for a wearable workwear style.
Classic Occasion Wear
Evening Dress
Because, unlike Cinderella, we don't have a fairy godmother on hand when a party invitation appears, we need a dress in our wardrobes we can call upon when the moment calls.
There's always the little black dress of course, but hasn't everyone got one of those? Stand out from the cocktail crowd with a palette that enriches. The Cynthia Dress in Wine Velour for example, is opulent in texture and deep in tone. Play up your accessories from classic and simple to costume flourish and transform this dress again and again.
Now, Go Forth And Invest Wisely
Remember, investment-worthy styles will outlive fashion. Look for good design, outstanding quality and brand values that leave a lasting impression and you'll be sure of a marriage made in heaven!