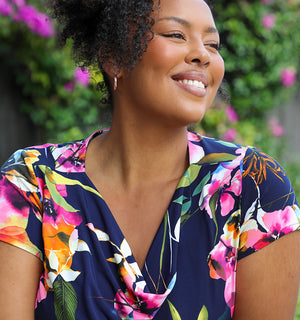 Wedding Guest Outfit Ideas
What To Wear To A Wedding As A Wedding Guest
With the excitement of a wedding invitation so comes the challenge of planning your perfect wedding guest outfit. Knowing what to wear as a bride is simple but what to wear as a wedding guest? There are so many options for wedding goers it can be hard to know where to start. Well, you're in the right place, here's what you need to know to style your best wedding outfit.
Wedding Outfit Planning - Wedding Guest Dress Code First
The first place to start is with the wedding invitation itself. Here you will find the key points to keep in mind when you start shopping for your wedding outfit. The invitation will state if the wedding has a dress code. It might specify cocktail attire for example, and then you know to focus your search on cocktail dresses to wear to your wedding. 
Next, take a look at the location of the wedding. Is it an outdoor wedding or an indoor wedding? A wedding on a beach is likely to be more informal than a church ceremony or a wedding held in a luxury hotel. This will impact the formality of your wedding guest dress code. It also helps you to keep in mind the practicalities of your wedding outfit like for example, if you need to wear shoes that are easy to walk in on sand, if you'll need a cover up to keep the sun off your shoulders, or a jacket to save against the evening chill.
Timely Wedding Guest Clothes
The time of the wedding too, will influence your choice of wedding outfit. Late afternoon and evening weddings will naturally have more of a cocktail party/soiree feel so even if a cocktail or evening dress code is not defined, it would still be appropriate. 
Let's take a look at more specific wedding guest outfit inspiration…
Why Florals Are A Great Choice For Wedding Guest Outfits
Nothing says happiness like flowers. From the bouquet to buttonholes and table decorations, floral displays are plentiful at weddings so get into the spirit with a floral print wedding guest dress or floral print separates. It really is the quickest and easiest way to style a wedding appropriate outfit.
Even if you're not used to wearing floral patterns there is a floral print for every wedding guest outfit. If you prefer plain colours or usually go for graphic prints, then craft your wedding outfit with oversized floral prints in bold colours. The bigger the flowers, the more abstract and contemporary they become. 
Floral Prints Make For
Colourful Wedding Outfits
Also, floral prints are a great way to inject colour into your wedding outfit. Typically, floral patterns feature leafy greens and pretty petals which help to widen colour palettes. This season the look is bold and beautiful with tropical-inspired florid prints like Navy Iris and its lush jungle palette. 
If you're looking for dresses to wear to a wedding as a wedding guest, go for luxuriously draped volume as seen in full skirted wrap dresses like the Delaney or Bibi Dresses. Cowl necklines like that of the Daryl Top meanwhile, accentuate the femininity of floral separates.
Feminine details work well for wedding outfits and combine perfectly with floral prints. Think ruffle hemlines and flutter sleeves to really fulfil your flower power.
Garden Party Wedding Outfits
What To Wear For A Garden Wedding - Florals.
Taking inspiration from the location of the wedding is the best way to ensure that as a wedding guest, you arrive looking en pointe. For outdoor garden weddings, take florals as your inspiration.
Micro florals or maxi blooms, florals of all sizes work in outdoor settings. Whether they are bold and bright or pretty in pastels, choose florals for wedding guest outfits in a palette that compliments your personality.
The relaxed mood of outdoor weddings allow for more casual wedding guest outfits so don't be afraid to try something different, like a jumpsuit or wide leg pants to create your pretty-as-a-picture wedding outfit.
BEACH DRESSES FOR WEDDINGS
What To Wear To A Beach Wedding
For a wedding on the sand, it's best to go for a beach wedding guest dress with a midi-length hemline or above. Maxi dresses may look boho and lovely, but as the sand kicks up and falls into the turn up of the hemline, you've got extra weight you'll be carrying around all day.
Instead, look for wedding guest dresses, skirts or culottes with calf/midi hemlines. And if you want to channel that boho vibe, go for a ruffle hem instead of a full length skirt.
To Shop Plus size wedding Guest Style
Upgrade To 'Size Inclusive' From Plus Size Wedding Guest Outfits
If you're searching for plus size wedding guest outfits and are feeling disappointed with what you're seeing, change up your search. Try shopping for 'size inclusive' wedding guest dresses or outfits instead. Often this turns up more sophisticated results.
At L&F for example, we don't talk about our clothing as being 'plus size,' we have one inclusive size range of 8-24. Regardless of your body's curves, we treat women as people and not figures on a plus or minus scale. And our clothes actually fit! You can read more about our size inclusive vs. plus size fashion here, but if you're simply shopping for wedding guest dresses for curvy figures then our Event Dresses are a great place to start.
What To Wear For A Cocktail Wedding
When day becomes evening - cocktail wear is typically a blend of day wear styles and evening wear colours and textures. Think rich velvety fabrics in opulent shades; midi to knee length hemlines and slinky tops that shimmer and sparkle. The cocktail pant suit is also de rigueur so strut out in full wedding guest style.
What To Wear To A Formal Wedding
For a formal wedding dress code, drop your hemline and go for a calf to full length dress. Keep the look modern by choosing a clean, refined silhouette. A wedding guest dress with a fitted bodice and a full skirt will create elegance that moves like Ginger Rogers on the dance floor.
50 Plus wedding guest dresses
Feel Good Outfits For Wedding Guests Over 50
If you're over 50 and looking for a wedding guest outfit, it can be challenging to find outfits that are less mother-of-the-bride and more guest appropriate. Wrap dresses like the Carys Dress with long sleeves are a great alternative to the more structured, formal styles designed for the wedding matriarch.
Flattering through the bodice and with contouring, modest necklines, wrap dresses like are elegant and comfortable for the duration of the wedding day. With short, 3/4 and long sleeve options, and knee-length, midi or maxi hemlines, with a wrap dress you can select your style to suit the season, location or time of the wedding.
What our customers are saying