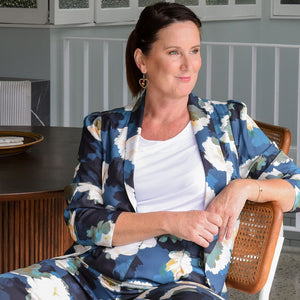 the path to function, fit & fabulousness
2023 will see L&F owner and Creative Director, Fleur Richardson celebrating ten years with L&F. Here's how she came to be delivering function, fit and fabulousness to women everywhere.
shaping her future
A New Zealand Girl
A small-town girl from New Zealand, a career in fashion was never something a younger Fleur envisioned for herself. With an analytical mind, she first set out on a path to finance.
However, after taking time out to travel, she returned to New Zealand and took an admin job at a swimwear brand, which would change the course of her future.
Inspired by the creativity of the brand's design duo and the energy of the design room, Fleur found herself at a crossroads - should she continue down the finance path or explore this new-found creativity?
"I have a very process driven sensibility but I loved the possibilities of creating fashion, and I thought, I want to know how to do that for myself," explains Fleur.
Fleur enrolled in a Fashion Design course at Wellington Polytechnic, now part of Massey University, New Zealand and immersed herself in the practical and the creative.
ARRIVING IN AUSTRALIAN FASHION
Australia Opens Doors
Two years after graduating, her role with Auckland-based suiting company, Cambridge Clothing saw her transferred to Melbourne. From there she moved onwards and upwards, into womenswear and up to Queensland, where in 2013 she met designer, Leina Broughton.
3 years after launching an eponymous fashion label, Leina was looking to grow the business - enter Fleur. The pair connected instantly, united by a shared vision of what they wanted to achieve in the fashion industry. The Leina Broughton label became Leina & Fleur and has gone on to grow from strength to strength.
LEADING THE
Woman At The Top
Taking on sole ownership of the brand following Leina's exit from the business in 2022, Fleur has been unwavering in her vision. "The brand has evolved so much from day one to where we are today. But the vision has always been the same," says Fleur.
"L&F is an age, stage and size inclusive brand with a vision to connect, dress and empower the L&F woman towards confidence that fits. I still want it to be about bespoke, small batch offerings so that women can wear an L&F product with pride."
At L&F, we know what we do best, and Fleur is a woman determined to keep all her ducks in line to keep us excelling in our USP (unique selling point).
"We really do tailor the fit [of L&F garments] to all our sizes from 8 to 24. That's actually really hard to do on a commercial level but we take the extra time and effort to make sure it works for all sizes properly, and that's the 'secret sauce' we offer our customer!" 
Delivering on Luxury
Australian-Made
Central to us being able to deliver our 'Secret Sauce' is L&F's Australian-made ethos. Giving us the advantage of an in-house design team and Australian manufacturers, we can be agile to deliver well-fitting, luxury products.
A woman with passion not just for her own business, but for the future of Australian-made fashion too. Australian manufacturing has been vital to the success of L&F's business model, and it plays a major part in Fleur's vision for sustainable, ethical fashion. 
"Being Australian-made means that you can be very close to your supply chain and that's very important to me because it's about being very transparent and ethical in our operations," explains Fleur. She knows everyone who sews L&F's garments and wants everyone involved in the process to be able to share in the equitable moments L&F products offer. 
The equality and health of L&F's workplace environments show in the quality of the clothing that is produced. Says Fleur, "I have very happy suppliers and team, and that translates through what you see today in the L&F product."
broadening horizons
Fashion That Thrills
After 10 years in the business, Fleur still feels the excitement. And there's a lot to be excited about. 2023 saw the launch of the first L&F Denim collection, an ethical, sustainable denim range of jeans and tailored jackets.
It will also see the unveiling of an after 5 range developed specifically for the L&F woman. The Up Late Collection will deliver subtle luxury that wears again and again, setting it apart from typical occasionwear one-wear wonders.
Says Fleur, "Creative industry, it's the fuel to the fire - anything is possible!"
Leina & Fleur
Our Inspiration
Our inspiration is to create diverse garments that make our customers exude confidence and feel beautiful, to amplify and elevate women to feel amazing - every single day.
Create an account and get inspired with the L&F Look Book.
CREATE ACCOUNT