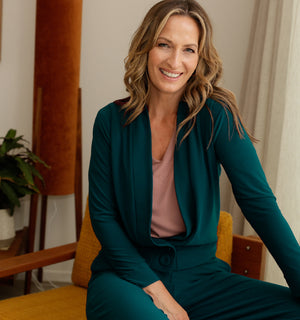 There's nothing ordinary about L&F.
Our weekly collections are redefining the way success looks and feels for the modern career-savvy woman, by creating pieces with a classically stylish design, that fit so perfectly, you will feel like you can walk into any situation and 'own the room'.
If you're new to us – let's give you a brief rundown of who we are and what we stand for.
We are Australian Made. Not 20%, not 50%, but 100%, because we believe that Australian manufacturing equates to investing in our own country, for Australian women and also ensures the quality that we are well known for and that you demand. 
Our Team are highly skilled and passionate individuals with the commonality of expertise and a strive for quality within every aspect of Leina & Fleur. This is achieved through our shared goals, shared leadership, collaboration, open communication and a supportive, happy team environment within our everyday work-life.
We drop small releases every week on Wednesdays and Fridays. These collections are small quantities, so you are assured that your style will remain unique and so that we don't contribute to the excess of the fast fashion industry. 
Our garments are specifically designed as classic styles, which ensures a maximum ROI – not fleeting fast fashion. You may choose to resell your garments, months or even years after you purchase within the independently run L&F Resellers group, who have a community of women who like to constantly rotate their wardrobes. 
Our own Facebook Community, L&F Share, is full of aspirational and beautifully styled women who share their own outfits and style advice daily. Weekly sneak peeks are also shared by our Social Team through our community to give you exclusive access to see what garments we are releasing the day prior.
Our Customer Care team is second to none. Their knowledge of our garments and fit are paramount to the ladies who contact us with questions and for advice on what will suit their body. With their incredible cache of information, you can be assured that you will get the best advice on styles to flatter you.  
Our brand is proudly 100% female owned and run by 95% women, because we believe that our understanding of what empowers us, is translated into our garment styles and our specific fit.
We celebrate women for who they are, not their numbers! Our fashion celebrates women for who they are, not the size they are, with our range being reflective of this – developed in sizes 8 to 24. Our emphasis is cut and fit so that every size is perfectly created with comfort and optimum style in mind.
Our Difference
Our brand, our designs, our team is run by (98%) women.
Our releases are limited quantity, small batch to keep exclusive.
We are 100% very proudly Australian Owned.
We have always been and remain to be 100% Australian Made.
We are 100% independently owned and operated.
We pride our quality and cut on all of our garments for that perfect fit.
Our timeless pieces, coupled with quality manufacturing ensures longevity is our garments for maximum ROI.
Our Customer Service is dedicated to pre and post-purchase assistance ensuring that the garments you choose are the best fit for you in both size and style.
Our Commitment
To create a sustainable fashion pathway, toward the slow fashion movement.
To remain proudly Australian designed and made.
To remain 100% Australian owned.
To continue to strive to evolve as a brand with ethical and environmentally sustainable systems thinking and will do so within all aspects of our business.
To create meaningful relationships with external communities and foundations, giving back to make our world a better place.
Leina & Fleur
Our Inspiration
Our inspiration is to create diverse garments that make our customers exude confidence and feel beautiful, to amplify and elevate women to feel amazing - every single day.
Read more