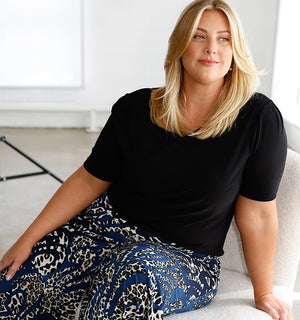 Sustainability & Conscience
making conscious fashion choices for a sustainable future
At Leina & Fleur, we are committed to seeking and following more sustainable pathways. In a multi-layered industry, we take charge of our own circle of influence to make informed decisions and responsible choices that better impact our sustainable footprint. 
From the fabrics we select to our manufacturing processes, packaging choices and even our efforts to continue the life cycles of our garments, sustainability is at the forefront of our minds. It is an on-going journey but we're ready and willing to embrace the opportunities that keep us striving for positive sustainable change.
Conscious Fashion Starts With
Slow Fashion
Countering the excesses of fast fashion, we support our range of timeless fashion essentials with releases of limited edition styles in small quantities.
Borne out of a more sustainable, slow fashion mindset, our clothes are designed to last, with every detail carefully considered to ensure we are creating garments worth investing in.
Our durable fabrics and quality construction ensure our garments stand the test of time, as clothes our customers return to year after year.
investments that keep on giving
Circular Economy
Thanks to the longevity of L&F garments, they hold their value. Offering our customers amazing re-sale potential: 48% of L&F clothing enters into a circular economy. Through independent resellers groups, the majority of our customers receive up to 75% return on investment when they resell their garments and our clothing can enjoy many more life cycles.
SAVING ON LANDFILL With
Minimal Waste
With all our clothing designed in-house and made in Australia, we see first hand the waste we create. With this constant reminder, we are continually working to reduce wastage, and take action where we can. Our investment in automated cutting technology, for example, reduces our fabric waste by 25%. Also, by capping our product releases to sustainable targets we reduce the potential for waste products. 
And we never discard our products to landfill. As well as making charitable donations of L&F clothing to local women's charities, our Outlet store makes non-current styles available at heavily discounted prices. Also, sample products and garments with minor flaws that have not passed our stringent quality control standards, are released for a token price. In doing so, we're ensuring the energy expended on their production will not have been wasted, and they don't end up on the scrap heap!
Sustainable Packaging Partners
Hero Packaging
To further reduce our waste, we're partnering with Hero Packaging to deliver our garments in eco-friendly wrapping. 
Our mailing bags are reusable and compostable. Use them to re-package any garments you wish to return to us or cut them up and add them to your compost bin. Made from plant-based materials and cornstarch, these Australian-certified mailers will compost in 3-4 months.
Similarly, the new garment bags we'll be using to protect many of our New Release, fashion garments while they're inside the mailing bags, are also fully compostable in much the same way. 
All of our Essential styles, Final Sale pieces and the L&F Outlet store meanwhile, will soon feature water soluble garment bags, which dissolve in boiling water. The PVOH material is marine safe and the ink used to print text is water-based and non-toxic. Simply cut off any adhesive seals, add to boiling water and watch it dissolve! The water solution is safe to use on plants and in gardens, or disposed of down the sink.
Supporting Fair Work Practices
Ethically Produced
Proud advocates of Australian-made fashion, our commitment ensures L&F clothing meets top quality standards as well as reducing the emissions required in the transportation of our products. Through our in-house design and Australian manufacturing, we can actively contribute  to the local economy and ensure the ethical production of our clothing. 
We make it our duty to know and understand the working environments of each of our manufacturers. In shopping locally made clothing with L&F, you can be confident you're supporting fair work practices. 
Even closer to home, our firm belief in empowering women extends to our own 97% female workforce as we endeavour to be flexible in the opportunities and support we offer. 
Reasons to love L&F
Size 8 - 24
Specifically developed for the modern woman, for the workplace and for everyday.
International Shipping
Shipping globally to bring quality, inclusive clothing to women everywhere.
Conscious Fashion
Committed to minimising our impact on the world around us.
Be Part of Our L&F Story
#LFShare
L&F Style & Share
Join Our Community
Gain exclusive access to sneak peeks and be the first to see our new releases in our Style & Share community. With over 6.5K active members, our Facebook group is a great place to receive expert advice, share styling tips and photos with like-minded women. Come along and join the fun!
Join Now