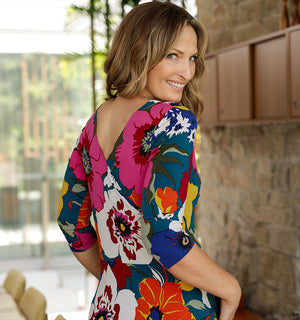 In L&F you've found a collective of people who share your passion for luxe fashion that celebrates your essence not your dress size.
Dropping weekly, our New Arrivals Collection releases limited edition luxurious looks, covetable colourways and prints you can't help but fall in love with. Our permanent Essentials Collection meanwhile, covers all of your must-have capsule wardrobe classics. 
Delivering style without compromise, our collections focus on fit and finish. 100% Australian-made, our in-house design team oversees in-depth fit processes and quality checks so whatever your shape, size or lifestyle requirements, with L&F you'll find confidence that fits.
Incredibly proud to be
Size Inclusive
At Leina & Fleur, we strive to keep in line with our values in everything that we do, so we can make the biggest possible impact.
We are incredibly proud to carry sizes 8 to 24, we work hard to ensure sizing is accurate and tailored to our women. At Leina & Fleur, we celebrate women for who they are, not what size they are. We promote the healthy and happy women, and work hard to build your confidence to express your individual style. Our range celebrates your curves, and bodies, your clothes are built to fit you, you do not have to fit them. Celebrate your individuality and personal style through our amazing clothes.
L&F Style Studio
Tailored to Your Needs
Find your fit, shape your style and grow your confidence with a personal styling session at L&F's Style Studio.
Whether you're looking to sculpt the perfect capsule wardrobe, build a work wear wardrobe that means business or explore the beauty and potential of the L&F collections, our specialist styling service tailors to your needs.
Investing in
Conscious Fashion
In the face of mass and over produced fast fashion, at L&F we are passionate about creating well made, quality garments in quantities that engage and excite not overwhelm our customers.
Facilitated by our Australian-made focus, L&F offers a range of timeless fashion essentials supported by regular releases of limited-edition styles in small quantities.
Borne out of a more sustainable, slow fashion mindset, our clothes are designed to last, with every detail carefully considered to ensure we are creating garments worth investing in.
The Reviews Are In
Our Customer Ambassadors Tell Their L&F Story
Reasons to love L&F
Size 8 - 24
Specifically developed for the modern woman, for the workplace and for everyday.
International Shipping
Shipping globally to bring quality, inclusive clothing to women everywhere.
Conscious Fashion
Committed to minimising our impact on the world around us.
L&F Style & Share
Join Our Community
Gain exclusive access to sneak peeks and be the first to see our new releases in our Style & Share community. With over 6.5K active members, our Facebook group is a great place to receive expert advice, share styling tips and photos with like-minded women. Come along and join the fun!
Join Now
Exclusive Access
Gain exclusive access to all things L&F. Be the first to find out about important events and promotions.
Sneak Peeks
Be actively prepared for each new release with access to exclusive sneak peeks the day before they are released.
Expert Advice
Get the insider scoop on all of your garments and have your product and styling questions answered directly by our team of product experts.
Kind Community
Fall in love with a community of 8.5K like-minded women and share your favourite photos, styling tips, and make lasting connections.
Be Part of Our L&F Story
#LFShare