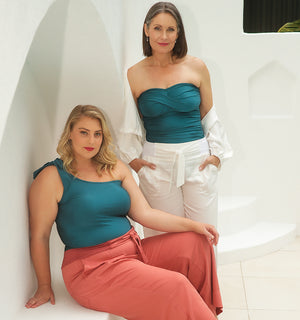 how to build the ultimate holiday capsule wardrobe
From pool-side lounging to drinks in the lounge bar, with L&F's holiday capsule wardrobe you'll be ready for the scene change. Whether it's a resort vacation or a summer staycation, verstaile dressing will keep summer looking slick and stylish.
Pool Side to Bar Vibes
Essential to all holiday wardrobes is a good swimsuit. The bikini vs. one-piece is down to personal preference but a one-piece does give added versatility. When it's time to move from the pool to the bar, simply pull on a lightweight pair of pants and a cover-up and you're cocktail ready.
From Resort Casual...
Day trippin' style - take in the sights, browse the markets or hang out at a cafe, pair lightweight pants with a breathable bamboo jersey top and you're good to go!
Nothing says summer like a white pant - go for a straight-cut leg to keep the look classic and elegant.
...to Resort Elegance
Easy, yes; glamourous, absolutely! Lightweight pants are comfortable for day time but styled up for evening, they can be decadent and glamorous too, especially with our silky touch Eco-blend fibres.
Silky-smooth, the Lindsey Pant is always just an invitation away from occasionwear. Contrast her Terracotta colourway with a seductive black bamboo jersey top to transform her look to one of relaxed evening glam.
Pack Lightweight, Pack Breathable
Choose lightweight,breathable fabrics and go for styles that offer a little more coverage to protect you from the sun.
The Terry Top in Etoile is a versatile option. Her ruched 3/4 sleeves lightly veil the arms while a pleat at the centre front offers easy volume through the body.
As part of your holiday capsule wardrobe, she's a throw-on top over swimmers for the beach; tucked in to cool white pants, she'll take you to lunch; and style her with navy separates and heels for evening elegance.
Dressing For Dinner
While separates offer great mix n' match styling options, it's always good to pack a dress or two.
A wrap dress will be your holiday hero. Over a swimsuit, she'll get you to breakfast in the sun then slip her off when it's time to lounge by the pool. Perfect for on-again-off-again wear, a wrap dress will enable you to move fluidily through each day's journey with ease.
For evening too, a dress will instantly elevate your look and your feel. Style up your wrap dress work-horse with heels and dazzling jewellery to change her look. Or if you've space in your suitcase, sneak a second dress just for evening glamour and make the most of those summer nights.
Your Hand Luggage-Sized Holiday Wardrobe
So there's the basics of your holiday capsule wardrobe all laid out. For a holiday capsule wardrobe you can pack in your hand luggage, you'll need:
▢ 2 pairs of lightweight pants
▢ 3 tops - 1 in bamboo jersey, 1 with sleeve coverage, 1 with a print/style feature you can style for day and night
▢ A one-piece swimsuit
▢ A lightweight cover-up
▢ A wrap dress
Optional - second dress to freshen up your style for evening.
PLUS accessories: slide/sandals, a pair of heels, a wide-brimmed hat, a beach bag and sunglasses.
Of course, these are just the basics. The fun is in the embellishing. Embrace that summer feeling and find a wardrobe that fits your mood if not your holiday plans!
What our customers are saying