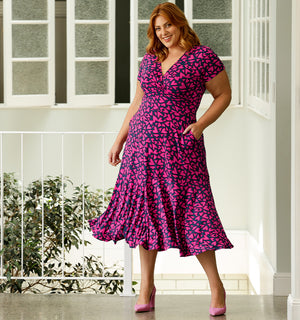 get inspired with the new romantic mood
With Valentine's Day just around the corner, we're feeling the love. Whether it's the love of a good partner, the love and laughs you share with great friends or the self love we should be blessing on ourselves, it's time to get inspired.
Put poetry in motion and spread the love far and wide as February's spotlight turns to romantic dressing...
Dress the mood
Say It With Flowers
Forever entwined, romance and flowers go hand in hand. Embrace then, the easiest way to capture the romantic mood - a pretty floral print.
While perfect for Valentine's date night dressing, a floral print is the number one way to bring the look of love into your everyday. Lift the mood in your work place with a top or work dress in a blossoming print and everyone can enjoy the blooms (plus you don't need to
search for a vase!)
"Romance is in the air somewhere and [in a floral print] I feel like I'm part of it."
- TRACEY TARR, L&F Senior Stylist
SHOWSTOPPING SEPARATES
The Look of Love
We're wearing our hearts on our sleeves and everywhere else this Valentine's Day with our new and exclusive Showstopper and Heartbreaker prints.
Take the romantic mood to the office - these graphic prints play down 'pretty' for a corporate look. Pair these fun-loving patterned tops with work pants and skirts in shades of blue and navy.
'GALENTINES' STYLE
Sisters Are Doing It For Themselves
Make a date with the girls this Valentine's Day and let laughter fill the air.
Dress to impress no one but yourself - in fact take a sharp-suited approach and bring sexy back with the London Top's cutaway design.
SHOP LONDON TOP
'me' time clothing
Let Your Love Flow
Being in love may fill us with a dopamine-induced high, but make the most of you this Valentine's Day and build a lasting happiness with a love that will last.  
Dedicate Valentine's Day to self-love. Sit back, relax and indulge in the things that make you feel good. Whether it's soaking in a hot bath, watching a heart-warming movie or engaging in an uplifting activity, make it a moment to grow that all-important relationship you have with yourself.  
thoughtful gift giving
Perfect Valentines Gifts
Why leave it your partner to decide on the perfect Valentine's Day Gift when a L&F Gift Card is the perfect present? Point him in the right direction - with a Gift Card you're sure of a present you will enjoy using, enjoy wearing and enjoy feeling good in all year long! (For hints he can't miss, print this out and stick it on the fridge!)
Similarly if you're a partner looking for a last minute Valentine's gift for your wife, partner or girlfriend, an L&F Gift Card is an easy win. Shop online and let her decide – the gift of fashion that feels good, fits well and comes in sizes 8-24 is the easiest way to be thoughtful.
Romantic Dressing with Tracey,
Hayley & Jackie
Are you feeling the love and want to see more? Take a look at our Style Squad in action with their take on romantic dressing for Valentine's Day and beyond.
VALENTINE'S GIFT IDEA
L&F Gift Experiences
Feeling inspired by Tracey and the Style Squad? Book your own one-on-one styling experience with Tracey in the L&F Style Studio now.
Or why not treat a girlfriend or loved one to an experience they'll never forget? Shop the Style Studio Gift Card and your recipient can book in a session at her leisure. There's another gift idea for your Valentine's Day wish list!