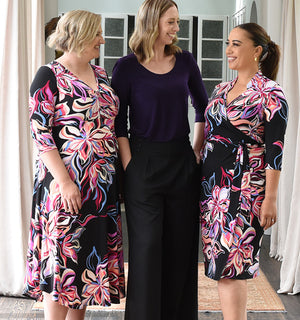 boost your work wardrobe with an injection of colour and print
Feeling weighed down by your monotonal work wardrobe? Wish your work clothes reflected more of your colourful personality? Need work wear inspiration that injects life and soul into your 9-5? Here's how to get confident seeking out the colours and prints that will transform your work wardrobe and your working spirit.
Colourful Clothing - Where Do I Start?
It doesn't take much to add colour to your look. Tops are easy additions and can quickly transform plain work suits and separates. If you're testing the water and still building your colour confidence, forget trends and look for shades you feel drawn to.
Ask yourself the question, 'do I prefer bold colours or soft tones?' This will narrow down the field of colour for you to choose from.
Expert Advice
When approaching colour, New Zealand-based stylist, Caitlin Taylor aka Chasing Cait, looks at the contrast between a woman's skin, hair and eyes.
The greater the contrast between your features, the more a dominant colour or print will flatter you; the closer the tones of your features, the more muted shades and softer prints will suit.
Cait also recommends trusting your instincts. "Often we intuitively gravitate to the colours that are the most flattering on us."
did you know...
Shop Styles By Colour
Once you've identified the colours you want to focus on, streamline your shopping experience by filtering the L&F collections to show only these colours.
To do this, click 'Filter' to the top left of the first product image. A menu will appear on the left side of the screen. Click the 'colour' tab and select the base colours you like to shop.
You can select more than one colour, which is a great way to get a feel for how different shades will work together. Go on, have a play...
Blueprint for Choosing Pattern
When trying to add print to your work wardrobe, start by identifying the dominant shade in your work capsule and look for prints with that colour as their base. For example if your work pants and jackets are mainly black, look for separates that have prints with black as their base. If you wear more navy, then look for more blue-based patterns. This will ensure you can maximise the wear of the printed garments you invest in.
Feel confident in prints by staying true to your personality.
If you like your fashion bold and strong, opt for a graphic print and experiment with scale. If your apporach is soft and feminine, shop for tonal prints and muted or delicate colours.
Friend not foe
Why Print Is Your Ally
Cait swears by printed clothing. Good for blurring lines, prints and patterns are great for camouflaging parts of the body we feel less confident about. So, while tops might be an easy option, don't overlook printed pants and skirts as unexpected allies.

Jackets To Reflect Your Personality Not Your Job Description
Create a strong statement by adding a coloured or printed jacket to your corporate wardrobe. Great for lifting the dark bases like black and navy, that we all tend to favour for our work wear, a pop of outer colour will accentuate the lines of the silhouette. Not only can this prove very flattering, it gives your personality a place to bloom in a corporate environment.
Just as with everything in life, the more you practice and experiment with colour and print, the better and more confident you'll become. Stay true to your personality, and above all, have fun with it. There's no need to go chasing rainbows when one sun beam is all you need to change the look of a day.
The Pink Edit
Like Shades of Pink? Here's a Collection You'll Love...