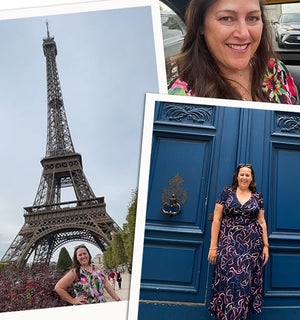 Rebecca's Travel Wardrobe
For France & Beyond!
Travel WEar Favourites For the Trip of A Lifetime
As L&F customer Rebecca T-R embarked on the holiday of lifetime, her L&F was the first thing she thought to pack. For a European trip that included everything from rugby matches and sailing trips to historic cities, famous landmarks and lavish dining experiences, Rebecca needed a travel wardrobe that could literally handle it all. She shows us the go-to travel capsule essentials that saw her live out her dream in style!
TRAVEL WARDROBE SEPARATES
Tops & Pants For Travel
Create the base for your travel capsule wardrobe with classic separates. A lover of Leina & Fleur wrap dresses, Rebecca packed mostly dresses for her holiday of a lifetime. But she still made sure she covered the basics with mix n' match separates for travel and relaxation. Her separates capsule wardrobe featured:
a denim jacket
a black top
a coloured top
a printed top
Rebecca says, "The Brady Jacket in Midnight Denim is perfect. I've never loved all the pockets and seams on traditional [denim] jackets"
A Dress for all locations & Occasions
Fernanda Dress in Black
A classic black dress was a great go-to style for all kinds of destinations. The new Fernanda Dress (Coming Soon!) is an empire line style with flattering pleats below the bodice and side splits for ease of movement. In slinky black jersey, it's lightweight and comfortable for effortless daywear. While the silky sheen of the slinky fabric allows this dress to translate too, for relaxed evening wear style.
Chic and simple, Rebecca wore this little black dress for everything from sports events to sunset dinners. On the Fernanda Dress (set to lauch in November,) Rebecca says, "Ophelia reimagined - L&F have added splits on the side seams and made her a tiny bit shorter - perfect for cruising! This is a slinky jersey which is super cool - easy to throw on over swimmers or wear out to dinner. Worn with sneakers to combat the cobblestone footpaths and a scarf that I can throw over my shoulders when visiting religious sites, for modesty."
FLUTTER SLEEVES & FLORAL PRINT
A Wrap Dress With Sleeves
Refreshing Rebecca's wrap dress collection, the Delaney Dress in Bold Hibiscus proved a versatile addition to her travel wardrobe. The bold floral print of this wrap dress allowed her to transition easily from day to evening wear.
The flutter sleeves too, were cool for hot and humid conditions and still covered the tops of the arms from the sun and for modesty when visiting to sacred sites.
sneak peak: up late collection
Putting On The Glitz
The Alexis Dress is Rebecca's all-time favourite dress style. The short sleeves and full skirt give great balance to the silhouette, enhancing hourglass curves.
Once you've found a dress style that fits, follow Rebecca's lead and shop it in all different prints. Patterns can really transform the look of a garment so much so, you wouldn't even think she's wearing the same dress in all of these pictures!
Easy-Case, Crease-free Cocktail Dress
A Cocktail Dress For Travel
Evening and cocktail wear can be high-maintenance and thus difficult to travel with. Rebecca went for a special occasion dress for an anniversary dinner, from L&F's Up Late collection because she knew it would come with the same easy-care capabilities as her favourite L&F dresses.
Made from Pewter Foil jersey, the Carys Dress is a long sleeve wrap dress that packs and folds easily for long-haul travel. Lightweight, it was perfect to slot into Rebecca's suitcase without taking up too much valuable space or weight.
What our customers are saying