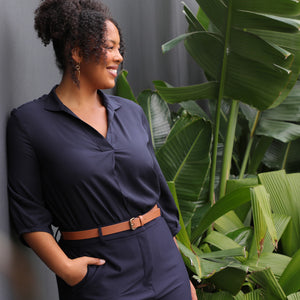 L&F - Putting The +positive in plus size Fashion
Are you one of the many women who've walked into a store, picked a beautiful garment off the rack only to be told that it doesn't come in plus size or horror of horrors, that "we keep our plus sizes out the back, I'll go and check for you?" But with the average 35-44 year old Australian woman measuring a size 14-16, and the typical plus size range starting at just the next size up, from size 18, why is the clothing industry continuing to minoritise the majority?
Why Is Plus Size Clothing Even A Thing? 
Roughly half the population is women, all of whom wear clothes, and with the average woman's dress size sitting more or less in the middle of the size chart, why are the sizes at the upper end of the scale set apart as 'plus size'?
Well, it's got a lot to do with the now out-of-date sizing conventions still being used today from generations past. But more interestingly, is that women's clothing from a size 18 up requires more focused fitting techniques to look and feel good on the body. That's not to say they just require more fabric. There are aspects of a garment's design that require greater adaptation to allow for the curve of fuller figure bodies.
The Specialist Skills For Plus Size Clothing
When creating a garment, the style is first planned out in a single sample size, as flat pieces on paper, known as a pattern. Other sizes are then created by moving up or down the size scale based on specific measurements. This is called pattern grading. And up to a certain point, this works. But as a woman's curves grow fuller, so body proportion and shapes change which traditional grading is too 'straight' to allow for. 
That's where L&F's fit expertise really comes to the fore. We adapt our grading scale from a size 18 and above to allow for these changes in proportions. And that's typically where this idea of plus size clothing comes from, it marks the point in the size scale where grading needs to adapt for more curve.
One of the benefit's of L&F's Australian-based in-house design and production team is our ability to adapt our designs to suit the plus size fit requirements of our garment styles. "We aim to grow our garments in proportion rather than blankly following a standard rule, and our smaller production runs allow us to be more flexible in adjusting the scale of garments particularly at the upper end of the range," says Creative Director, Fleur Richardson. Click to read more about L&F's Pattern Grading.
A Plus For Testing On Curvy Women
The next step is the fit test. Now what would be the point of grading for fuller figures and then not trying them on a curvy woman? At L&F we wear test our garments on sizes 12, 18 and 22 women to ensure they all fit well and look good across the size spectrum.
As well as being fitted in the design studio, our garments are thoroughly wear-tested too. "Wear-testing is where I wear the garment at work for the day, see how it moves and feels in an office environment and often I will wear-test on the weekends – going to kids sports, family events, grocery shopping etc. Then I give feedback on what I love about the style and any problems I may come across. I also give feedback on how the garment washes," explains L&F Marketing Manager, Hayley who, measuring a size 18, is one of our plus size 'fit and wear' models.
When shopping for plus size clothing, it's worthwhile reading up on a brand in their blog pages or size chart pages to check that they do fit tests across the size range. Good plus size fashion brands will do this as standard and will be proud to say so.
Full-Picture Not Just Fuller-Figure
About more than just fuller figure clothing, L&F deliver full picture clothing. Age, stage and size inclusive, our clothes are designed to give all women confidence that fits. L&F clothing looks fabulous on all shapes and sizes, heights and ages of women and that's why we aim for model diversity across our website and social media platforms.
The Quiet Plus in L&F's Curve Clothing
For us at L&F, crafting well-fitting garments is our passion and our area of expertise. For that reason we don't distinguish plus sizes from the rest of our clothing. If we're doing our job properly, we should be able to deliver clothing styles that fit every curve and every woman in our size range, regardless of the number.
All of our styles from our wrap dresses and pull-on soft jersey pants to our tailored trousers and jackets come in an inclusive 8 to 24 size range. We have a bespoke approach to the fit outcomes we desire for all the sizes we make, so why should we pigeonhole our expertise by labelling a size range within our size range? We shouldn't. Although perhaps more women searching for 'plus size clothing' would find us if we did.
Shop Size Inclusive Clothing
Plus Size Occasionwear & Cocktail Dresses
Plus Size Pants
"In terms of pants, we assume a blending approach [with our pattern grading] to maximise the success through the different sizes," L&F CAD Grader and Marker Maker, Lisa van der Velden explains how L&F achieves well-fitting pants throughout our inclusive size range. (Click to read more here.)
L&F's luxurious stretch fabrics also enhance the fit and comfort of our pants for curvy and fuller figure women. Our more fitted and tailored trouser styles are made in Tech Stretch Ponte. With 4-way stretch, Tech Stretch Ponte pants contour the body well, adapting easily to the various body shapes that can present across any given size.
Alternatively, L&F's Heavy Weight Dry-Touch Jersey makes for soft, pull-on pant styles that are great easy-wear, easy care plus size pants for work, travel and casual wear.
Plus Size Wrap Dresses
Whatever your shape, size or curve, wrap dresses work to enhance every figure.
The crossover, V necklines of both wrap dresses and fixed wrap dresses work to 'divide & conquer' full busts. Securing at the waist, wrap dresses give definition to the waist so whether you think you have one or not, a good wrap dress will always imply that you do.
And L&F wrap dresses all feature flattering pleat details through the front. Enhancing the drape and reducing any cling of the skirt over the tummy and hips, these well-positioned pleats are what makes L&F wrap dresses the best wrap dresses for curvy women.
Size Inclusive Wrap Dresses
Explore petite to plus size wrap dresses...
7 Style Tips For Shopping Plus Size Fashion
Invest In Good Underwear
This applies whether you're plus size, petite or all curves in between. Well-fitting underwear (that's bra and pants!) helps to make the most of the curves you've got. Most importantly, it will ensure curves stay where they're supposed to so your clothes fit the points on the body they're designed to.
Know Your Measurements
Don't just assume your dress size especially if you're shopping with a brand you haven't tried before. Always use a tape measure and check your measurements against the size chart on a brand's website. Remember, your size might be different on the top as to the bottom, so don't pigeonhole yourself as one size, and don't worry about sizing up if you need to, to feel confident in a garment.


Highlight Your Best Asset
We've all got a best feature so look for styles of clothing that highlight it. If you've got great legs, look for shorter hemlines, good arms then short and sleeveless styles, a slender waist, go for styles that fit in at your narrow point; if you've got beautiful eyes, look for the colours of clothing that will accentuate them.
Avoid Clothes That Are Too Baggy
Wearing baggy clothing is like wrapping a blanket around your body - it'll only exaggerate the fullness of your figure while hiding all the curves that give proportion to your silhouette. Instead look for tops with tailored details like bust darts that give shape to the shoulders and bust even if they drape over the abdomen.
Prints Are Great On Plus Size Clothing
Fuller figures can carry off bold patterns that often swamp petite frames. Print also has a smoothing effect which can serve to even out curves that flat colour might cling to.
Follow People With Your Body Shape For Inspiration
With social media giving women of all shapes and sizes a platform to showcase their style, look to accounts and influencers that have a similar body shape to you. Take inspiration from what they're wearing and how their wearing it. There's also the L&F Style & Share Facebook group, where women of all ages, stages, and dress sizes share outfit and styling inspiration.
Ask The Experts
Whether you're a curvy woman looking for clothing that elevates, a plus size woman struggling to find clothes that fit, or a fuller figure woman looking to feel more confident in your clothing choices then a personal stylist can help. At the L&F Style Studio, our plus size stylist is guiding women every day, helping them to find their size and fit; the cuts that work best for their body shapes and those special pieces for work, holidays and occasionwear that as fuller figure women, they struggle to find elsewhere. See how our stylist could help you.
What our customers are saying