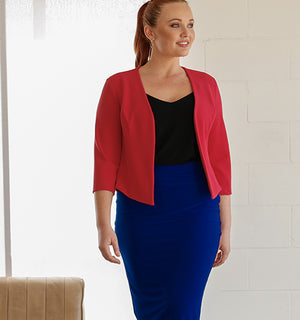 Colour Therapy - Fashion Your Colours
The Colour Prescription You Need To Look And Feel Great!
With the season's abundance of fresh new colourways, now's the time to get on board with colour. A quick and easy way to feel good, a good dose of colour therapy can revitalise your wardrobe and your mood. Here's your quick and easy guide to embracing feel-good colour.
Winter, Spring, Summer or Fall...
While there is much to be said for the comprehensive analysis of a colour consultation, wearing the shades you love needn't be so prescriptive. Colour should be an asset, not a restriction. Wearing colour well is about understanding which hues go well together, not about telling people what colours they can and can't wear.
...Who Cares, Wear Them All!
While our skin tone can have an effect on how certain colours look on us, it shouldn't be a hard and fast rule. There are many different hues, tints and shades of colours, and even the slightest variation on the palette can impact how good a colour looks against the skin. So don't write off colours, experiment with the tonal variations until you find one you feel confident with.
Play To Your Contrasts
Forget the many degrees of skin tone, the simplest and most effective way to wear colour successfully is to look at contrast. Look at the colour of your hair compared with your eye colour and the colour of your skin - the greater the contrast between your features, the more vibrant the colours of clothing will look good on you. High contrast features such as Snow White-style dark hair, pale skin and light eyes or light hair and dark eyes for example, should play up this contrast with bold and contrasting colours and prints. The more similar your hair colour is to your skintone, the more a muted palette will work for you. 
Bold Skirts and separates
Separate And Conquer!
But that's as hard and fast as we get with the rules at L&F, and then we like to break them! If you love a colour, wear it. There are lots of ways to embrace the colours that you love. Simple tricks can transform how confident you feel in certain colours.
For example, if you've got low contrast colouring and worry you don't suit bright colours, wear them away from your face. A skirt in a bold shade like the Andi Tube Skirt in Cobalt, will give a very different appearance to a top in Cobalt blue that wears closer to your face.
Keep in mind the contrast you want to make when you're deciding what colours to pair together. Colours that sit opposite each other on the colour wheel for example, compliment each other, bringing out the best of both shades to make a striking combination. Think shades of red and green, purple and yellow, blue and orange. Cool blue looks great warmed with shades of coral, peach or burnt orange. 
Colours that sit next to each other are more tonally similar like blue and green, or blue and purple for instance. These give a softer statement when paired together. The Emerald Arches print works well because, while it's a striking, graphic pattern, the navy blue, grey blue, emerald green and golden yellow are all close relations.
Even the colour of your accessories can impact how a colour performs on your body. If you're a gold jewellery wearer, pairing a cooler shade such as cobalt blue with warmer metallics like gold, rose gold or bronze will give a different glow on the skin than silver jewellery.
Back To Black
Black is a tougher colour to pull off. While it's a fall back wardrobe staple for most women, it can reflect negatively on the face, dulling the complexion rather than lifting it. Take Marilyn Monroe for example, she may have been a beautiful woman but she knew all the tricks to amplify her look to active legendary status. On duty, she would not wear black close to her face. If she did wear black, she would have plenty of skin showing around the decolletage and shoulders so as to keep the reflection from her luminous face. 
Wearing black well is not impossible, it just requires greater consideration. Black pants and skirts are easy - away from the face anything goes! Break up black tops with scarves and necklines that cut away from the neck rather than sitting high.