Autumn/winter has us spellbound this month as we embrace length, layers and luxe new textures.

Beginning bold and bright, we are revelling in captivating colours and prints, and colour blocking our way to happiness. Embrace the power of colour to create contemporary silhouettes that stand proud against the darker notes of winter.

We are welcoming in new texture too, that will enrich our autumnal souls. So get ready to be charmed, we'll all be under winter's spell before the month is out!
Enjoy, Fleur x
EXCLUSIVE PRINT
Willowy Charms
Energising classic cuts, electric blue flashes and bursts of Opal add light to the darker months.
Fissioning against a navy base, crescents of blue contrast bolts of green and white to shape Willow's dynamic dance.
Intensify and amplify with a burst of Opal atop prints and plains - the mood is electric!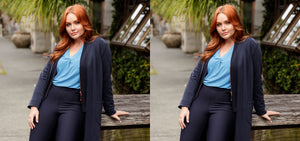 Break With Bland
Colour Blocking
Break with bland - instantly transform your capsule wardrobe with a statement block of colour. Koi orange compliments shades of Navy and Bluestone while Opal adds voltage to power suiting.
Make Mulberry your seasonal must-have and create a bold silhouette through suiting. Block with strong separates that will empower your aura.
STYLE NOTES
Layering Magic
Take the winter weather in your stride with layering pieces that sculpt stylish and versatile looks.
Use the Myah Reversible Slip as your base and build your look. Skirt and top combinations enhance the adaptability of your capsule wardrobe so embrace the faux dress and it's possibilities! Add a classic jacket and accessorise to further insulate, update and transform your outfit.
EXCLUSIVE PRINT
Zen Garden
Casting tantalising webs that will ensnare and enrapture, Zen Garden's silvery white threads lattice over shadowy black to create a look that is graphically modern yet classically wearable.
In a textured knit jersey fabric, the look and feel is one of winter luxury. Cocoon necks in high Hansel polo collars and let sleeves converse with wrists once more. Reinvent layered luxe and the traditional twinset with the contemporary coupling of the Sandro Jacardi with necklines high and low.
Re-dressing the balance, the new Sandee Dress is full-skirted and ladylike.