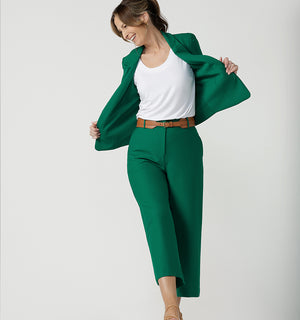 Spring clean your wardrobe & streamline your style
Embrace the season's fresh new energy to clear out, streamline and declutter your wardrobe. Create a minimalist wardrobe that saves you time, energy and money with this how-to guide to curating a capsule wardrobe that serves you well, every day.
Wardrobe Declutter: The Goal
It takes the average woman 17 minutes* to decide on an outfit to wear for work in the morning. What else could you do with those 17 minutes? That's the goal with decluttering your wardrobe: to remove dressing dilemmas and make decision-making easier so you can gain back precious minutes and improve your day.
Creating your minimalist wardrobe will involve a degree of clearing out redundant clothes. It's not necessary to strip your closet bare. A minimalist capsule wardrobe is not about having as few items as possible but having a well-curated collection of versatile, quality pieces that coordinate well together.  
THE MINIMALIST WaRDROBE
Step 1 - The Wardrobe Clear Out
Start by taking everything out of your wardrobe. That means everything! As well as clothes, include underwear, belts, shoes, scarves and any other accessories you have so you can see the full picture.
Assign 5 different piles:
Clothes that don't fit - these will be the clothes that are not the right dress size for you but also clothes that are not a good fit; the ones that dig in or squeeze in places and that feel uncomfortable to wear. 
Clothes you don't like - these are the clothes that might be the right size, they may match with a lot other clothes in your wardrobe; they have lots of things working in their favour yet for whatever reason, you still try to avoid wearing them. This is the excuse you've been waiting for - get rid!
Clothes you will never wear - the bad purchase, the optimistic purchase, the peer pressure purchase, the one-off event purchase, the one you accidentally put through on a hot wash and it never forgave you, you know the ones we're talking about.
Clothes you wear regularly - these are the clothes you turn to for workwear, for leisurewear and for the weekend, anything you'll regularly pull out and put on without hesitation.
Clothes you wear occasionally - these could be going out clothes and pieces you save for special occasions. Whether dresses, skirts, tops or pants these should be pieces you re-wear, not one-off statement event pieces.
Clothes that bring you joy - I'm getting a bit Marie Kondo here but if there's a piece of clothing you really love, something that sparks happy memories then by all means keep it in the 'clothes that bring you joy' pile. These pieces will be in the minority, the truly special things always are. These are the pieces that make something skip inside when you see them. For me it's a floral print maternity and nursing dress I wore when having both my children. Am I going to wear it again? No, but just seeing it reminds me of a really happy time in my life so I'll keep it alongside their first shoes other momentos of their babyhood. But there's just the one dress, not the whole pile of milk stained, stretched and worn out maternity clothes.
Go through each item of clothing you've taken out of your wardrobe in turn and assign it to one of those piles. There are just two golden rules:
Only keep pieces that are comfortable, fit well and that you feel good in now, not five years ago or you're hopeful will come good in a few years time. Now.
Be honest.
Minimalist Wardrobe Waste
Refine your discard piles with a bin bag in your hand for any clothes that have seen better days. Divide up the remaining good quality clothes into a pile that you could donate to charity and one that you could potentially resell as part of a circular economy.
L&F's CIRCULAR ECONOMY
Did you know L&F has a thriving circular economy? Just as our clothes stand the test of time, so does their value! L&F garments hold amazing re-sale potential and we encourage our customers to re-sell rather than discarding. Over 48% of L&F garments enter into a circular economy. Read More about our circular economy>
Step 2 - Categorise Your Clothing
Separate out the 'Clothes You Wear Regularly' and 'Clothes You Wear Occasionally' piles into categories of: clothes for work, clothes for off-duty, clothes for exercise and clothes for going out.
A good last check of all that's good about your wardrobe, scan through each section and see if there's any pieces that jar. Look for example, at your workwear clothes, is there a top in a print or colourway that stands apart from the rest? Ask yourself what else from your workwear wardrobe it matches back with. If there's not much then is it a valuable part of your workwear capsule wardrobe? It's not too late to discard any rogue items that come to light.
Take a good look too, at your going out clothes. While these pieces can be the most bedazzling, try to disconnect from the sparkle to ensure your going out wardrobe is proportionate to your going out calendar.
Step 3 - Select Your Staples
From your collections of clothes, pick out the staple pieces from each. These might include a classic trench coat, a timeless white shirt, a good pair of jeans, trousers that feel like they were made for you, the work jacket you feel like a boss in, your go-to cocktail dress for a night out, the bra that holds your curves in the right places... These pieces will form the foundation of your minimalist capsule wardrobe.
Remember, while neutrals are the favourite palettes of Instagrammable wardrobe minimalists, there's no reason bold colours cannot form a chic capsule wardrobe. Minimalist wardrobes should be minimal not monotonous. Choose one or two key colours and ensure your clothes can still mix n' match within your chosen palette.
Hang your selected staples back in your wardrobe ready for step 4.
Step 4 - Curate Your Minimalist Wardrobe
Hold up your remaining clothes against the selected staples hanging in your wardrobe. The aim is to have as many mix n' match possibilities as you can to keep your minimalist wardrobe as versatile as possible.  
Look for any anomaly pieces that don't match back with your staples, and add them to your discard piles. Consider too, how many of your staples the remaining pieces of clothing match back with. If it's all of them, it's a keeper; half is good; less than a quarter? Ask yourself if it's earning its place in your new, super streamlined wardrobe. You might love the piece and be willing a 'yes' answer, that's ok too just make sure you've asked yourself the question and can give a justified response.
Congratulations - you have just decluttered and successfully created your minimalist wardrobe!
With the biggest part of the task complete, here's some tips for keeping your minimalist wardrobe schmick:
5 Ways To Maintain Your Minimalist Wardrobe
Accessible Storage - Think carefully about how you store your clothes so you can easily see what you have available.
Categorise Clothing - sort your clothes by type e.g. pants, skirt, jackets, tops etc. and store the same types of clothes together so you find pieces easily.
Colour Code - within the your clothing types, organise by colour. Keeping for example, all your black pants together will mean you can easily lay your hands on the specific pair you are looking for on any given day.
Invest in quality - forget trends, invest your hard earned money in clothes that will last and work hard for you.
The One-In-One-Out Theory - Adopt the practice of only introducing a new item into your wardrobe only when you're ready to let go of something else. Check out the L&F resellers groups for positive ways to rotate your wardrobe.

* The average woman will spend 17 minutes choosing an outfit to wear to work, reveals UK survey. Read More >