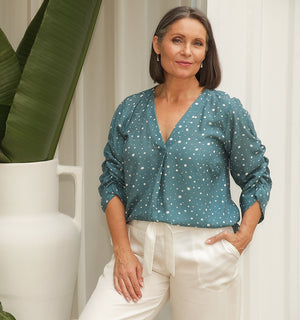 Safe-guarding the future by acting consciously today
Sustainability is increasing its influence on the fashion industry but what exactly is it and is it really something you need to be concerned about? Read on and judge for youself.
What Is Sustainable Fashion?
Sustainable fashion refers to clothes that have been created and that can be consumed in ways that can be maintained long term, whilst protecting the environment and the welfare of the people producing the garments.
Why Is Sustainable Fashion Important?
Fashion production makes up 10% of humanity's carbon emissions, dries up water sources and pollutes rivers and streams. The textile industry releases 500,000 tonnes of microfibres into the ocean each year through washing clothing and fabrics, with 22 million tonnes expected to be added between 2015 and 2050 [1].
What's more, statistics show that people are buying more clothing, 60% more in 2014 than 2000 [2], but are keeping clothes for half as long. So, despite all the energy and water consumed or polluted in their making, according to UNEP, one rubbish truck full of clothing is burned or dumped in landfill every second [3].  
How much can the world handle before we push it beyond its limits?
What Can We Do To Curb Fashion's Impact?
While fashion sustainability is far-reaching and multi-layered in its challenges, the first thing we can all do is increase our awareness of the issue. First understand the problem and its importance in safeguarding the planet, and then make informed decisions about the products you buy and the companies you support.
At Leina & Fleur, we hold this issue close to our hearts. From the fabrics we select to our manufacturing processes and even our efforts to continue the life cycles of our garments, sustainability is at the forefront of our minds. So, when you're shopping with us, you can rest easy knowing that we're addressing the key areas of concern for you already.
Here are some of the things to keep in mind when shopping sustainable fashion:
1. Be Brand Conscious
A simple place to start is to look for brands who are committed to their sustainable journeys. These companies are always searching for cleaner and greener options, and will continue to work towards bringing you garments with an ethical focus.
2. Source Locally-Made
While domestically sourced goods that require less transportation by air or by sea, save on energy and emissions, by shopping locally made clothing you can also be confident you're supporting fair work practices.  
Human rights is a key element of sustainable fashion. In many parts of the world, textile workers are often paid inadequate wages and are forced to work long hours in dreadful conditions. By buying clothes made in Australia you can be confident that the rights of workers are being met. Moreover, you're also playing a valuable role in sustaining your own local economy.
All of our L&F products are made here in Australia and where possible, we keep things as local to us as Brisbane and the Gold Coast.
3. Think Slow Fashion
With mass production fuelling overproduction, it's time to
slow things down. While many fashion brands churn out style after style in the constant pursuit of the 'new,' consumers are told last week's pieces are outdated and ready for the scrap heap. Instead look for fashion labels that promote timeless designs and long-lasting quality.
To avoid the excesses of fast fashion, L&F offers a range of timeless fashion essentials supported by regular releases of limited-edition styles in small quantities.
Our clothes are designed to last, every detail is considered from fit to fabrication, fastenings to functionality, to create garments worth investing in.
SHOP TAILORED PANTS
The aim at L&F is to encourage an investment mindest not throw away culture and to prove that less can absolutely be more!
4. Shop Circular Fashion
As our clothes stand the test of time, so does their value! L&F garments hold amazing re-sale potential and we encourage our customers to re-sell rather than discarding. Over 48% of L&F garments enter into a circular economy.
There are several independent L&F Resellers groups who support a community of women that enjoy regularly rotating their wardrobes without wasting a drop of good style! The majority of our customers receive up to 75% return on investment (R.O.I.) when they resell their L&F garments.
Our Zero-Waste Collection too, gives near-perfect garments that would otherwise be thrown away, a second chance of life. If we are not satisfied with a product's quality, we will offer it for a nominal price to ensure no waste is being added to landfill.
5. Check The Packaging
The impact of wasteful packaging is also damaging to the environment. To highlight the issue, we now pay for plastic bags in stores but the online market has no such markers.
At L&F, we understand that packaging is a key area we can address to reduce the footprint our fashion leaves on the planet. For example, all of our postage bags are compostable and our protective wrapping papers are themselves recycled products.
Fashion For The Future
Ultimately, we all have our role to play in sustainable fashion. As a brand, we are committed to improving our environmental foortprint across all aspects of our business. But whether we are producers or consumers, by making informed and considered decisions we can impact the stain the fashion industry is leaving on our planet. Let's make sure it's a mark that will come off in the wash.
What our customers are saying