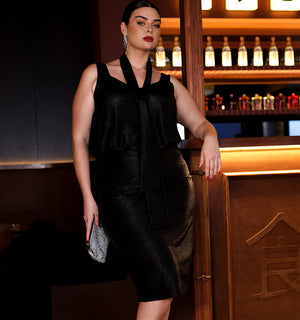 Cocktail Dressing - The Style Guide
Decoding the Cocktail Dress Code
The party mood is upon us! But what to wear? The invite says 'cocktail dress code' but what does that actually mean for our party outfits? Find out as we decode the dress code and reveal the do's and don't's of cocktail dressing.
So What is Cocktail Dress?
Also known as cocktail attire, a cocktail dress code aims to strike a balance between formalwear and casual wear. A hybrid of the two, cocktail wear will often blend the shapes of day wear, skirts and dresses with knee length hemlines for example, or tailored suit styles with the glitzy fabrics and glittering embellishments of formal eveningwear.
When Should I Wear Cocktail Dress?
A dress code such as cocktail attire, if there is one, is usually stated on the event invitation. If no dress requirements are specified then take your cues from the type of event and the formality of the venue. 
Events such as weddings, engagement parties, anniversary celebrations, reunions, awards ceremonies and fundraising events are typical occasions for cocktail dress.
Cocktail attire can also come under the umbrella of after 5 wear, semi-formal, evening wear, event dressing, and occasionwear; cocktail dress is also the most reasonable interpretation of the 'black tie optional' instruction. 
The Golden Rules of Cocktail Dress
1. Dress To Impress
Save the ballgowns for black tie events, cocktail dresses should have knee to midi length skirts.
Go Beyond the Little Black Dress - While typically lighter shades and pastels suit daytime events, black is not the only colour for evening wear. Break with the failsafe and embrace a sophisticated palette of darker shades for after 5 wear. Jewel tones for example, like Jade, Sapphire and reds in deep Raspberry or Wine add opulence to cocktail dress.


Cocktail Dresses with sleeves are sexy. Long slinky sleeves are great for streamlining the arms while flutter sleeves add a feminine veil. Look out for peekaboo flutter sleeves which reveal a subtle flash of skin that's perfect for flirtacious party dresses and tops!


Think ladylike chic and avoid transparent fabrics and overtly revealing neck and hemlines. Subtly is the key to sophistication!
2. Beyond the Dress
Cocktail wear is not limited to dresses. An elegant skirt or pant and top combination can look just as sophisticated and give you even more styling opportunities!
Invest in a good pair of evening trousers and you'll always have a chic base on which to build your event outfit. Whether it's a dinner date, special event party or a formal cocktail affair, evening pants will translate well. Go for a classic straight leg cut in tuxedo-style black and look for luxurious textured fabrics like the Glam sparkle of the Denver Pant to elevate the look.
Faux dress looks as created by the Brooke Tube Skirt and the Eddy Cami in Black Xanadu (pictured) work well for cocktail hour. Separates in the same colour way will style together as a dress and wear separately to transform your look for other functions and events.
Accessories like neck ties also work to create versatile style statements. The Cyrus Neck Tie shown here is styled to make an impact at the neckline but it also makes a great sash belt to change up the look of the skirt.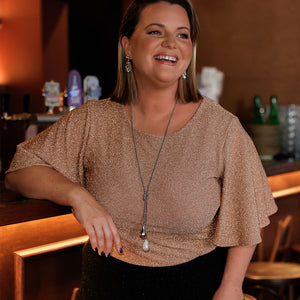 Eveningwear Skirts and Tops that re-style event after event, party after party
3. Statement Pant Suit
Sharp tailoring makes a statement alternative for event dressing. The pant suit created definitive moments for Yves Saint Laurent and Tom Ford, use the magic to create your own defining moment.
Balance the look with a feminine top - think cowl necklines, silky drape and blouson effects.
Soft tailoring looks effortlessly chic for evening and cocktail attire, too. Keep the look opulent with luxurious jackets in fabrics like Velveteen and Velour like the Black Velour smoking jacket pictured. Or add a good dose of sparkle with some sequins or metallic Glam!
4. The Cocktail Pant
Are trousers acceptable cocktail attire? Absolutely!
We're not talking jeans though, cocktail pants should be smart and elevated. Think tuxedos and tailoring.
Slim leg pants create a sharp silhouette. Pair with silky or chiffon tops to create a look of feminine elegance. Or go rock n' roll with some Xanadu shimmer.
Wide leg pants give a look of nonchalant luxury. Easy to wear all night long, look for straight-leg cuts to ensure a sophisticated statement.
Flared pants add a playfulness to cocktail wear. Inspired by seventies disco and Studio 54 glamour, a sharp-cut pair of flared trousers suit the party mood.
the new cocktail look
Jumpsuits for Cocktail Attire
Put a twist on conventional cocktail dress with a glamorous jumpsuit look. Combining the best features of a cocktail dress and all the ease-of-wear of a pant, a jumpsuit is powerful alternative for the modern party woman.
EXPLORE JUMPSUIT LOOKS
Crown Your Cocktail Look With Style
With your cocktail dress code outfit in the bag, here's a few finishing touches to perfecting your cocktail style:
In your clutches - keep bags small and clutch sized. The cocktail mood is one of decadence not everyday essentials!
Elegant footwear will elevate your look. Kitten heels are a chic yet wearable alternative to towering stilettos.
Smooth out creases and crumples for a polished look. Hang garments in a bathroom while you shower or invest in a garment steamer to revive your cocktail wear before a special event. Check out the Up Late fabric page for advice on how best to take care of luxurious fabrics.
If in doubt, cocktail parties are an occasion to over dress rather than under dress.
Jewel Tones & Opulent Textures Make For
Exotic Evenings
Oriental glamour and metallic glitz razzle dazzles as the Up Late Look Book projects fashionable fantasies onto real-world rationale.
VIEW LOOK BOOK
What our customers are saying