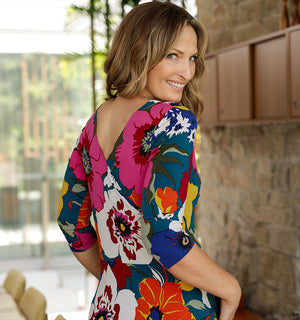 Welcome to Leina & Fleur - we're bringing quality, Australian-made, size inclusive fashion to the women of New Zealand. Shop with L&F and not only will your discover clothing that celebrates your essence, but now you can also enjoy FREE Shipping to New Zealand.
Explore the L&F Collections
With our limited edition New Arrivals Collection, we release luxurious new clothing styles in covetable colourways and dynamic prints, every week. While our permanent Essentials Collection delivers must-have womenswear basics in quality fabrics to deliver the complete capsule wardrobe for Australian and New Zealand women.
Designed and made in Australia, our in-depth fit processes and quality control measures give our customers peace of mind. Whatever your body shape or size, whether you're looking for work or weekend wear, pants or dresses with L&F you'll find confidence that fits.
Reasons To Love L&F
Our brand values are at the heart of what we do. Owned and run by New Zealander, Fleur Richardson, L&F is anchored around her commitment to local, Australian production. Her belief that all women whether in Australia, New Zealand or beyond, should be able to enjoy well-made, luxurious feeling fashion has inspired L&F's range of size inclusive, locally-made clothing. It's a vision that has inspired Australians and New Zealanders alike, attracting a skilled team from both sides of the Tasman.
Incredibly proud to be
Size Inclusive
Working hard to ensure the accurate sizing and fit of our clothes, at L&F we celebrate Australian and New Zealand  women for who you are, not your dress size. Our inclusive size range runs from size 8 to 24, and our diverse selection of styles offer dresses, pants, tops and skirts to flatter petite to plus size women.
New Zealand Shipping
Shop Women's Clothing Online NZ
Why keep a good thing to ourselves? With international shipping now available, L&F is bringing great style and quality clothing to the women of New Zealand. Shop dresses, pants and all the fashion your hearts' desire and enjoy flat-rate shipping to New Zealand.
Investing in
Conscious Women's Fashion
Dedicated to improving our sustainability, every part of what we do at L&F is considered to limit the impact of our business on the world around us.  Instead of mass producing our clothing, L&Fs regular releases deliver high-quality pieces in small quantities. If we're not satisfied with a product's quality, we will release it to our Zero Waste Collection at a lower cost to ensure we are not contributing to landfill. Our packaging too, is designed to cut waste so we work with recycled tissue paper and compostable postbags for both domestic and international shipping.
The Reviews Are In
Our Customer Ambassadors Tell Their L&F Story
Reasons to love L&F
Size 8 - 24
Specifically developed for the modern woman, for the workplace and for everyday.
International Shipping
Shipping globally to bring quality, inclusive clothing to women everywhere.
Conscious Fashion
Committed to minimising our impact on the world around us.
CATCH UP ON STYLE ANYTIME
Introducing LFTV
The hub of L&Fs style videos. Here you'll find all of the top styling tips, tricks and techniques showcased by the L&F Style Squad. Sit back, relax and enjoy the edits...
L&F Style & Share
Join Our Community
Gain exclusive access to sneak peeks and be the first to see our new releases in our Style & Share community. With over 6.5K active members, our Facebook group is a great place to receive expert advice, share styling tips and photos with like-minded women. Come along and join the fun!
Join Now
Exclusive Access
Gain exclusive access to all things L&F. Be the first to find out about important events and promotions.
Sneak Peeks
Be actively prepared for each new release with access to exclusive sneak peeks the day before they are released.
Expert Advice
Get the insider scoop on all of your garments and have your product and styling questions answered directly by our team of product experts.
Kind Community
Fall in love with a community of 8.5K like-minded women and share your favourite photos, styling tips, and make lasting connections.
Be Part of Our L&F Story
#LFShare