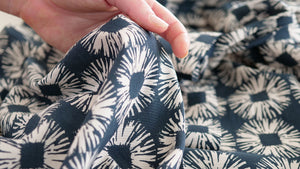 Cupro EcoVero™ is soft to the touch and has a luxurious appearance. This deliciously light fabric is made through sustainable production methods. Cupro EcoVero™ is manufactured using natural and renewable materials with a lower fossil energy and water usage than other fabrics like for example cotton.
Cupro EcoVero™ colours beautifully and has a flattering, sensuous drape. It is breathable and has water absorption qualities that leave you feeling cool and dry. Cupro EcoVero™ is resilient to static build-up, which means that the garment will skim over your body and can easily pair with hosiery without sticking.
Lightweight
Sustainable
Moisture Absorbant
Breathable
How to Care
Because of its natural fibre composition, Cupro Ecovero™ is more delicate and may require a little bit of extra care. Wash your garment at a cool temperature on a gentle cycle. Avoid using a fabric softener or mixing bright colours and whites in the wash. Gently reshape your garment while still damp and drip dry your garment flat in a shaded area. To protect your garment, cool dry iron on reverse protecting it with a cloth.

When caring for your garment follow the instructions on the care label.
What to look out for
When wearing your garment, be aware of coarse, sharp and abrasive surfaces, for example, jewellery, hard textured seats, walls. They can cause fabric abrasions such as pilling or snagging.
How to store
We recommend storing your Cupro Ecovero™ garment on a hanger to reduce creasing.
You may also like View all
Your daily dose of inspiration