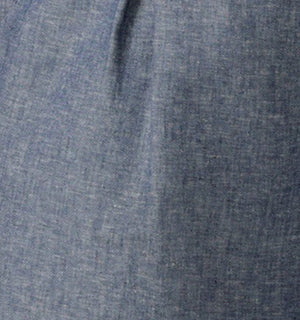 L&Fs Chambray is a 55% cotton, 45% linen woven fabric. It has a look of denim but Chambray is woven differently to give it a lighter-weight feel.
Natural
Moisture Absorbant
Breathable
How to Care
Wash before wearing.
Because of its natural fibres, Chambray requires gentle care. Wash your garment at a cool temperature on a gentle cycle. Avoid using a fabric softener or bleach and mixing bright colours and whites in the wash. Dry your Chambray garment inside out to protect it from sun damage and do not tumble dry. To protect your garment, cool dry iron on reverse protecting it with a cloth. Do not dry clean.

When caring for your garment follow the instructions on the care label.
What to look out for
When wearing your garment, be aware of coarse, sharp and abrasive surfaces, for example, jewellery, hard textured seats, walls. They can cause fabric abrasions such as pilling or snagging.
How to store
We recommend storing your Chambray garment on a hanger to reduce creasing.
You may also like View all
Your daily dose of inspiration