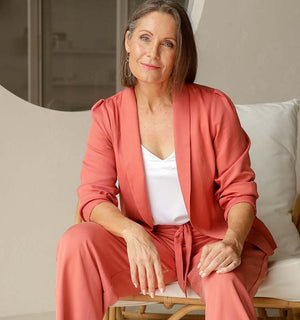 Summertime & The Livin' Is Easy
Must-have styles for easy summer dressing
As the song goes, 'summertime and the livin' is easy.' Live lyrical with our top picks for staying cool, fresh and full of summer breeze.
Heat-Regulating Bamboo Jersey
Keep cool as temperatures rise with the the termo-regulating benefits of bamboo jersey. The natural fibres of bamboo work to repsond to your body temperature. Great for cooling down in summer, it also works to keep you warm in winter too.
Cool Cover-ups
As we're growing increasingly sun smart, we recognise the need to cover up during the hottest part of the day. Protect shoulders and arms with a chic jacket or shrug.
Keep your cover-up lightweight and breathable, and remember, extra layers are easy to peel off when you're out of the direct sun.
3 ways to style
The Molly Jacket
In Terracotta, the Molly Jacket's luxurious lyocell fabric is cool and lightweight.
Luminescent in Lilac, this Molly Jacket is made from an EcoBlend fabric combining cupro, linen and lyocell. Giving a more structural feel, she still features the same breathability and lightweight qualities but with a textural finish.
Tie the Molly Jacket's silky grosgrain ribbon at the front, wear her loose and casual, or fasten her to the back for a shrug that shades the shoulders.
Stay Fresh in Natural Fibres
Choosing natural fabrics over synthetics will help you combat the pressures of heat and humidity. Moisture absorbant, lightweight and breathable, they'll help prevent perspiration to keep you feeling fresh for longer.
Lightweight Sundresses
A lightweight sundress is a must for summer. As a throw-on over bathers for the beach, a run-around dress or a weekend-fun dress, an easy-fitting, fluid shape will go with your flow.
With your body temperature regulated, your skin shielded and your style guaranteed, your summer wardrobe is in the bag! All that's left now is to enjoy with a nice cool drink - cocktail anyone?
What our customers are saying