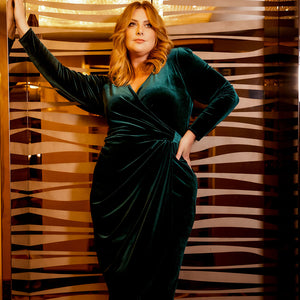 Mother of The Bride
- Perfectly Put Together Outfits
helping you shape your perfect Mother-of-the-bride outfit
The wedding of a child is the peak of all special events and as the mother of the bride or groom, you want to look and feel your best. With L&Fs many years of experience in creating dresses that fit and flatter, we share our insider knowledge to help you shop your ultimate mother-of-the-bride outfit. Prepare yourself for the journey...
1. Match the Mood
Confidence comes from comfort, and feeling comfortable in a wedding outfit comes down to more than simply size and fit. It's also about hitting the right note. There's nothing more uncomfortable than arriving at an event in a ball gown and seeing the other guests in denim, or vice versa and rocking up to a black tie even in your shorts and thongs. So start by setting down the tone of the wedding - is it a formal or informal wedding?
While many dresses can transition from formal to informal and vice versa with some simple accessorising, it's not the case for all dresses especially if the wedding is very formal.
Consider the wedding location
When you've identified the tone, then you can highlight the more specific considerations such as it an indoor or outdoor wedding?
If it's a beach wedding, can you walk down a sandy aisle in stilettoes, or would wedge heeled or flat shoes be the option? If the wedding is outdoors, will you need to keep the sun off your shoulders, or a cover-up to veil you from the breeze? Make a list of the your most important considerations and focus on the top three when looking for your mother-of-the-bride/groom outfit.
2. Complimentary Colours
While as mother-of-the-bride/groom, you don't need to match the wedding party, it's good to keep in mind how you want to appear when you're standing next to the wedding party and in photographs. Do you want to be competing or complimenting? And pick your shades accordingly.
Mother-of-the-Bride FAQs
Q. Can the mother of the bride wear dark colours like navy or black to a wedding?
A. Absolutely! Dark colours are timeless and elegant. You can play with colour and tone in your accessories to enhance darker palettes.
How To Adapt Dark Tones for Weddings
Break up solid blocks of dark dresses or separates with brighter accessories. A colourful jacket or shrug with lighten the whole look while shoes, bags and belts add subtle accents.
What time of day is the wedding? Black and darker shades will look glamorous for a dusk or evening wedding.
Fresh shades like white or cream lift dark tones for a look of classic cool, while punchy contrast shades are great for transitioning from day to night.
3. Think Structure
When shopping for mother of the bride or groom dresses, look for a dress with structure. Structure doesn't necessarily mean boning and corsetry. The term also refers to details that add definition to the silhouette of the dress, features such as ruching, pleats and drape or a belted waist. Structural details instantly elevate how a dress looks on the body and are a great way to create a polished look.
You do want to be comfortable in your wedding outfit to enjoy the whole day though, so here are our top ways to get silhouette
sculpting style you can wear all day long:
Wrap Dresses: wrap dresses offer the comfort and stretch of jersey fabric so you can choose a slimmer cut that will move with your body. The crossover front of a wrap dress flatters all bust sizes while the belted waist adds definition. L&F wrap dresses also feature pleat details through the front to ensure they sit and drape well when drawn across
the body.  
Tailored Touches: add a tailored jacket to create definition. Bringing a sophisticated look for the wedding ceremony itself, a jacket instantly elevates any look. And it's easy to slip off when in the swing of the day.
A tailored cut like the Yuri Jacket will shape a sophisticated silhouette in one fail swoop, while with a more voluminous style like the Molly Jacket, you can vary the ties to sculpt to define your own outfit.  

"Some people arrive and make such a beautiful impact on your life, you can barely remember what life was like without them."
4. Look Stunning In Separates
When you're looking for mother-of-the-bride outfits, don't rule out separates. Sculpt your own look with a chic skirt or pant and a beautiful top or jacket. Separates allow for greater flexibility both in fitting to and highlighting your best assets and in giving you versatile styling options you can wear beyond the wedding day.
Ultimately, the most important thing to remember as mother of the bride or groom, is to have fun with it. Relax and enjoy the experience! Shop comfort, shop confidence and shop feel-good style that will make memories.
Evening & Occasionwear
Up Late by L&F
Robed in sensuality and effervescing like the champagne bubbles she'll soon be sipping, L&F muse Caitlin Robertson steps into the night...
Get ready to shop the luxurious Up Late Collection...
VIEW UP LATE
What our customers are saying