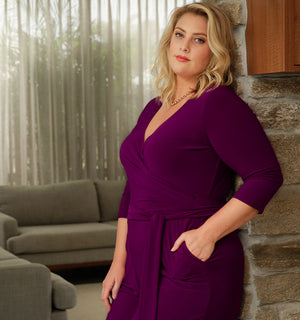 Colour therapy in an outfit? We think so. Research has shown that colours greatly affect our moods, and can even have an effect on our heart rate, blood pressure and respiration! Taking the power of colour into our everyday lifestyle can become a serious game-changer.
Magenta is all about passion and power. With the energy of red, restrained by the introspection and quiet energy of violet, she's the colour that makes you stand out without being overstated.  
Go top to toe or simply add a touch of vibrance to your look by styling with white, black, navy or a great print. Think of magenta as a core neutral in your ensemble and embrace this timeless colour.  
Let's take a look at 3 steps you can take to welcome this colour into your own wardrobe.
1.
BEGIN YOUR JOURNEY
If you're not used to wearing bold colours and would like to transition your wardrobe to find a newly formed confidence, ease into it. Start by pairing a magenta separates with a neutral top or bottom. Consciously make the decision and put your brave foot forward to start the journey.
2.
Mix it up
Magenta is a great bold colour to start your colour-embracing journey with. She is the universal colour for harmony, self-love and is a representation of transformation; quite fitting on this journey of colour exploration. If you are feeling a little more confident, mix up your magenta pieces with your favourite print and accessories.
3.
Ready to Go Big?
A one-and-done solution is perfect for those special occasions when you want to turn heads. Create a striking look by pairing her with accessories from the same colour family, or pair back with your favourite neutrals to let colour be the star of the show.
This beautiful hue is also said to evoke emotions of compassion, support, and kindness and we all need a little more of that in our everyday lives. Those who already embrace bold colours will understand the charisma and confidence that comes with it. Just be sure to have fun with it, and don't be afraid to let your personality shine.
Magenta
Wear & Care
Our Magenta dry-touch jersey packs a punch with impact in the colour department. In order for us to achieve this stunning colour, it requires a huge amount of dye to achieve the intensity we are after.
Read more
You may also like View all
Your daily dose of inspiration