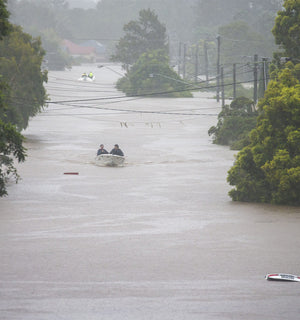 Our hearts go out to the communities who have recently been affected by the flood disaster in South East QLD and Northern NSW. We want to take the time to acknowledge our privilege in these times and to let you know that we will be doing our best to support the communities that have been so affected by these devastating floods.

The flood emergency caused by record-breaking rainfall across South East QLD and Northern NSW has cut off entire regions, leaving families and communities stranded without access to food and clean drinking water. 
We have seen the community come together and work tirelessly to ensure the safety of people, pets, wildlife and to make the best of a bad situation. We know there is still a long road ahead before these communities will be able to rebuild their lives. That is why we urge you to stay connected and do anything you can to help support those in need. 
Wondering how you can help?
With a long road ahead we want to focus on how we can help in the long term. We encourage you to donate to organisations that have the infrastructure to rebuild communities beyond the clean-up. 
We have reached out to the Australian Communities Foundation (ACF) who have provided us with a few key organisations to donate to:
Northern Rivers Community Foundation
Help the community in the Northern Rivers to recover from the devastating floods. The Northern Rivers Community Foundation is currently working with the community to gather an understanding of where the funding gaps are that are not being met by emergency services and government support. Donations to the Resilience and Regeneration Fund will help fund the community in the early, medium and long term recovery phases, following the emergency relief effort. This will focus on helping people to rebuild their lives.
National crisis response fund
Maximise your impact and make a donation to the National Crisis Response Fund's Flood Appeal and get your funds to where they're needed most. This Fund allows you to give to smaller organisations quickly in response to their funding needs. The Fund's granting strategy puts local approaches, self-determination and community ownership at its core. Your donation is pooled with others and grants are disbursed quickly on an as-needed basis.
Want to provide immediate relief?
There are many other organisations that are providing immediate relief to these communities. From food relief, supplying clothing and a safe place to sleep, here are some of the organisations you can donate to show your immediate support:
AUSTRALIAN RED CROSS
Donations to the Qld and NSW Floods Appeal will help Red Cross to provide vital humanitarian support to the people and communities affected by the floods. Based on ongoing needs assessment in Queensland and NSW and amount raised, that support may include, enabling volunteers and staff to help with evacuation and relief centres and outreach service and supporting people and communities to recover and to build resilience to disasters.
VINNIES
Vinnies have started the Vinnies QLD Flood Appeal 2022 to help Queenslanders affected by the disaster who urgently needs your help.Your donation will help purchase emergency food, toiletries, essential household items, provide basic furniture, clothing, and assist families with paying rent.
GIVIT
GIVIT is managing offers of donated goods, services, volunteering and funds, including corporate offers, in response to the widespread flooding across Queensland and New South Wales.
GIVIT is working with the NSW Government to ensure donations are managed to support all impacted communities. As a still-developing event, specific areas will be updated when possible.
You can donate here: https://www.givit.org.au/storms-and-flooding
THE SALVATION ARMY
From emergency response to recovery, we stand with communities for the long haul, providing financial, material, emotional and spiritual support so they can re-establish their lives after disaster. 
Salvation Army Emergency Services (SAES) and local corps are continuing to provide assistance at evacuation centres with meals and emotional and practical support. Now also working at recovery hubs, our people on the ground are focussing on the next phase of recovery, where we journey with communities to rebuild their homes, their businesses and their lives.
You can donate here: https://www.salvationarmy.org.au/need-help/disasters-and-emergencies/
RURAL AID
Rural Aid stands by our farmers when they need us most. Rural Aid provides critical support to farmers affected by natural disasters through financial, wellbeing and fodder assistance. Rural Aid's community programs help create more sustainable communities by building stronger futures for all Australian farmers.
You can donate here: https://www.ruralaid.org.au/flood-appeal-2022/
Your daily dose of inspiration
GET $25 OFF

Receive our newsletter and save off your first order!