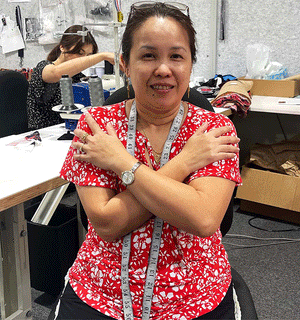 Wednesday 8th March is International Women's Day (IWD). A global event to recognise the achievements of women and reflect on gender equality, the focus for 2023 is on embracing equity as the means of achieving equality. But what exactly is 'equity' and how can we take steps to embrace it day-to-day?
What Is Equity?
If equality refers to the state of being equal in status, rights and opportunities, equity is the quality of being fair and impartial. Equity is the tool that will forge the path to equality. #EmbraceEquity is about building a culture of diversity, inclusion and fairness across all aspects of society, and extending beyond gender alone. 
At L&F, we do not employ based on ethnicity or background, on age or circumstance; at L&F we look for those with the best skills for the job and the best spirit for our values. This is fundamental to our company ethos, and while IWD is a great opportunity to highlight this, our culture is something we celebrate throughout the year (just take a look at our About us pages!). IWD is a timely opportunity to reflect on how women are represented in the workplace, both ours and yours.
"Since starting with L&F, my confidence has grown. I feel I am heard and I belong." Graci, Customer Care
The Best Women For The Job
As a women's clothing company, perhaps it is natural that our workforce is 98% female. Our team is made up of women from all walks of life. A multi-national array, our women come from Europe, Asia, Africa and South America as well as from our own doorstep, across Australia and New Zealand. With this diversity comes a wealth of skills, knowledge and outlooks that enrich our workplace and our business.
Covering a range of demographics, the ages of women working at L&F spans from women in their early twenties to women in their sixties. The depth of knowledge that can be shared between the generations is not just empowering, it enhances productivity. We know, whatever the questions, whatever the problem, someone will be able to pull from her sphere of knowledge to come up with the answer.
"Everyone is open to sharing their knowledge. Our team is full of strong, creative women. We all have such unique talents and expertise that help our team to function and do incredible work," - Hayley, L&F Marketing Manager
Embrace & Nurture
Seeing the potential in individuals has been fundamental to building L&F's successful workplace culture. Our Production Coordinator, Tearra is a case in point.
"When I first started working in the fashion industry, I found it hard to get my first paid job. I had interned for months with different businesses to build up my experience until I was offered a paid casual position somewhere. From there, I have faced challenges moving up in my career as my experience has always seemed to be second guessed," explains Tearra. "When I first started at L&F, my confidence was low and I was very unsure of myself. The team at L&F have helped me build my confidence back up and have always supported me in expanding my knowledge." 
Embrace Progression
It's a case too, that once we have these talented women on board, women who've brought skills to the team and who have developed skills with us, we want to keep those skills and their hunger for development with us for as long as we can. We'd rather give our team members room to grow than for them to take all their assets to another brand. 
embrace development
"I've been with the company for 5 years; it was my first job in Australia after moving here in 2018," says L&F Digital Team Manager, Lucja. "There were about 5 of us when I started so it's great to see how much L&F has grown! Eventually, my role progressed to overseeing a small team and managing advertising channels. L&F's culture and mission to empower others has brought a new dimension to what I was doing and kept me with the company over the years."
Embracing Equity Beyond the 9-5
One of the primary obstacles to women's participation in the workforce is the challenge of work-life balance*. In a predominantly female workplace, we have women at all stages of life, many of them mothers or carers of family members, who have struggled to find  workplaces that don't penalise them for having other dependents.
At L&F, we believe the worth of a woman with fifteen years industry experience does not diminish because she has to drop her children off to school before she can start her work day; just as the contribution of a staff member is no less valuable because she is working from home to support an elderly relative.
Embrace Flexible Working
"I've found it challenging to find a company with a balanced working environment. That was one of my biggest considerations when applying for my position here. But L&F was very understanding and we developed a flexible roster to fit around my family schedule," explains Brazilian-born, Graci.
"It was hard looking for work as a parent of young children and also returning to work after living overseas. Finding somewhere that valued work-life balance has been wonderful," agrees Marketing Manager, Hayley.
"If it weren't for the support of the L&F team, I would not have the same zest for life that I have now." - Tearra, L&F Production Coordinator
embracing trust
"When life gets in the way, being agile and supportive of each other is a main trade of our team," says Lucja.  "Trust is one of the key factors that shape our culture: we are trusted to do our jobs well and to take ownership of our departments, and this allows for a lot of flexibility around the way we work depending on the individual's circumstances. This focus on the individual translates into being seen and heard and, as a result, a stronger work culture."
"I've been working for L&F for 18 months now. Having witnessed the many struggles faced by the women in my life, I am a passionate supporter of female equity and social justice. I gravitated to L&F because it matched my passion for contributing to, learning from and supporting women," explains L&F Administration Officer, Deb.
"The L&F working environment is forward-thinking and flexible. It is also very safe and nurturing," continues Tearra. "My managers are always very supportive and encourage me to grow within my role as well as outside of work. It's given me the confidence to explore hobbies like Scuba Diving! If it weren't for the support of the L&F team, I would not have the same zest for life that I have now."
Embrace Each Other
At L&F, we believe in equity beyond our four walls. Our focus on fit and finish, and our drive to empower women with confidence that fits, is all about inclusivity and celebrating diversity. And we love that our Facebook community provides a platform for women to support and honour each other in this way.
"I love the sense of women empowering women. It doesn't matter what shape, what size, everyone is a beautiful woman. I have a real sense of confidence to engage with the community and actually be a part of the community not just a by-stander." Says long-time L&F customer, Simone on the power of the L&F community.
For us at L&F, International Women's Day is not simply one day but a culture we embrace every day of the year. For 365 days, we encourage, support and amplify the women who work for and with us. We celebrate diversity and all the gifts that brings to our workplace. The same power is in you too. Together we are stronger, not just for one day but for every day.


#Embrace Equity
What our customers are saying