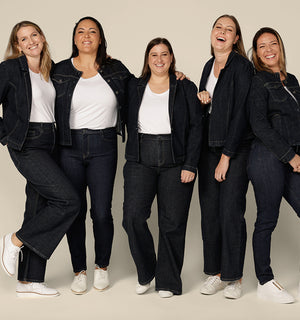 How L&F IS delivering on conscious denim tailored for the female body
With our new range of ethical denim, L&F is tackling the issues of sustainability, ethical manufacturing and the task of making tailored jeanswear achievable for every woman. Join us on the journey...
A denim range has been an L&F aspiration for several years but the challenge for our Australian-made brand has always been in finding a manufacturer that lines up with our brand values and high production standards. "We have sustained a wholly Australian-made brand for the last ten years and understand the importance of manufacturing quality garments," says creative director, Fleur Richardson. "We tried denim manufacturing onshore and the experience was very disjointed."
"But the direction of offshore manufacturing is changing. It's not just about cheap products and minimal quality anymore. For us it's about discovery, finding and aligning with manufacturing partners that are experts in their craft and kicking goals, ethically and sustainability, in the market." - Fleur
ethical denim experts
Outland Denim
In Outland Denim and their manufacturing arm, Maeka we found a brand that aligned with the L&F philosophy. The new L&F Denim range combines their expertise in denim with ours in fit, form and function.
Producing to the Meaka Standard™, Outland Denim delivers both ethically and environmentally. Launched to offer training and employment to survivors of exploitation, their mission soon evolved to address the environmental responsibilities of the fashion industry as well.
Working to create a cycle of freedom for the people it employs, Outland Denim uses 100% traceable organic cotton and non-toxic chemicals. "They have invested in their workforce, and their environmental practices are very transparent and progressive," says Fleur. "No humans have been harmed in the creation of an L&F Denim garment!"
While the biggest anticipated challenge was finding a like-minded manufacturing partner, Richardson's vision of a tailored Denim range that flatters a woman's body turned out to be a step above the denim industry standard.
"Denim originally evolved from US workwear. There's a common tendency to keep it shapeless and masculine. A boxy denim jacket can change a woman's proportions less favorably. I wanted to achieve a more sculpted, tailored style," explains Fleur.
"Denim evolved from US workwear. There's a tendency to keep it shapeless and masculine. I wanted to achieve a more sculpted, tailored style." - Fleur
the art of denim tailoring
Denim That Uplifts
"Create a bit of side shaping and bust contouring and the whole look is more elevated. Also, adding a small percentage of lycra stretch into the denim mix is great for retaining shape whilst hugging the curves."
The result is a capsule range of four Denim styles: two jeans and two jackets.
the sia jean
The Skinny Jeans
The Sia Skinny Jean, is a high-rise, skinny jean in super-stretch Indigo Denim. The tailored fit of the Sia Skinny Jean is enhanced by back leg seams which contour the seat to create lift.
SHOP SIA JEAN
the deagon Jacket
The Collarless Denim Jacket
A tailored jeans jacket, the Deagon Jacket is chic and collarless, tailored and timeless.
Featuring the classic jeanswear shoulder yokes, flap pockets, double-stitched seams and metallic button fastening, the refined shaping, hemline and collarless neckline set the Deagon Jacket well ahead of other denim jackets in the style stakes.
the brady jacket
The Denim Blazer
Designed to create luxe denim suiting, the Brady Tailored Jacket is a blazer style jacket with a single button fastening. 
Collar and notch lapels set the tone while tucks at the sleeveheads elevate Brady's style presence.
SHOP BRADY JACKET
the ariza jean
The High-Waisted Jeans
With its high waist and wide, flared legs, the Ariza Tailored Wide Leg Jean is a retro-inspired cut full of feminine sass.
Figure-hugging through the hips, the kick flare balances curves creates a statement silhouette.
L&F delivers confidence that fits, and with our full clothing range available in sizes 8 to 24, we follow this philosophy right through the size range, for many women and every body shape. The Denim range is no exception.
"These garments are designed with all we know about the L&F woman in mind. We have incorporated our combined years of experience and our L&F fit and grading principles to make these Denim pieces feel like they were made just for you," says Fleur.
Fully charged with both confidence and conscience, the L&F Denim range is an exciting progression for the brand and for denim-lovers everywhere. What's more, it's a wake up call for the fashion industry. If a small business like L&F can take on the might of the jeanswear market and do it ethically, sustainably and affordably all while staying true-to-brand, then isn't it time for the big fashion industry players step up and do the same?
Workwear Wardrobe
Explore our top workwear styles...