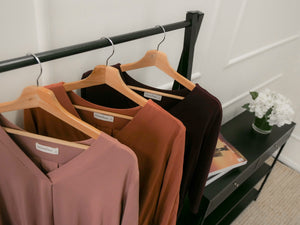 Building Your Capsule Wardrobe
We all know the challenge of choosing what to wear in the morning. In a wardrobe of countless pieces, the decision overwhelm can leave you thinking each morning, "I have nothing to wear!" Don't worry. We have a solution: consider building a mix & match capsule wardrobe!

Simplify your morning routine with a collection of well-curated and versatile pieces that are sophisticated, comfortable and cohesively mix & match. Look out for high-quality pieces to add to your capsule wardrobe and wear time and time again. Your capsule will act as your go-to system, saving you time, money and decision fatigue!

To get started, we've put together three simple steps to help curate your capsule and include the styles you love. Intrigued? Follow the steps below to begin your capsule journey…
Step 1. Find Three Core Tops
The first step to building a successful capsule wardrobe, is implementing the best foundation – three tops you know you can depend on any day of the week. For all year-round staples, we recommend choosing either black or navy, white and a pop of colour! Our essential tops collection has everything you need to get started.
Step 2. Three Staple Bottoms
Now that you have built the foundation of your capsule, our collection of essential bottoms is the next best step. With many styles of pants and skirts to choose from, you can start to play with endless mix & match possibilities! For capsule continuity, pull through your base colour palette of either black or navy, and consider the silhouettes and shapes you love and feel comfortable wearing day in and out!
Step 3. Three Must-Have Dresses
The best way to simplify your morning routine is with dresses you can trust. On days you need a throw-on-and-go piece, our essential must-have dresses have you covered. Just pop her on, pair with minimal jewellery and accessories like a jacket or a belt, and you're ready to walk out the door!