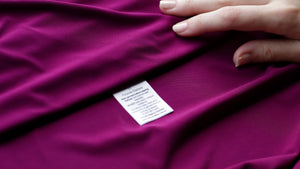 Our Magenta dry-touch jersey packs a punch with impact in the colour department. This type of jersey is heavier than our light-weight slinky jersey, yet it still has that signature softness that feels amazing on the body. This type of jersey is known for its beautiful drape, colour intensity and high-quality 4-way stretch that was designed to work with every movement of your body without clinging or losing its shape.
4 Way Stretch
Colour Intensity
Moisture Wicking
Wrinkle Resistant
How to Care
Due to the large amount of dye required to create Magenta, pre-washing before wearing is a crucial first step. To wash your magenta garment, turn inside out and wash separately using a 'delicate' wash machine setting on a cool temperature. Please note, the dye may run onto your care and leina&fleur label, this is expected and very normal with rich coloured garments. Avoid using a fabric softener, as it can encourage fibres to pill and shorten the life of your garments. As an added tip and to preserve qualities of the fabric, always wash your jersey garments separately from other textiles and dry inside out in a shaded area. Remember, our dry-touch jersey is crease-resistant and it doesn't require ironing. When caring for your garment follow the instructions on the care label.
What to look out for
Magenta looks absolutely stunning paired back with white or vanilla tops for a fresh look. As above, pre-washing your magenta items is a MUST before pairing back with white. If left unwashed you may find that there is some bleeding of dye onto your white items. We also don't recommend wearing white jackets over the top of magenta tops, dresses or jumpsuits.
When wearing your jersey garments, be aware of coarse, sharp and abrasive surfaces, for example, jewellery, hard textured seats, or walls as they can cause fabric abrasions such as pilling or snagging.
How to store
If hanging your garments up, always use the hanging ribbon if included to support your garment. As our dry-touch jersey garments don't crease you can simply do a half fold in your drawer. We don't recommend storing jersey garments on a hanger for a long period of time as it may cause indentation.
Wearing magenta is a fabulous way to bring energy and vibrancy into your professional wardrobe. Go forth and embrace colour!
You may also like View all
Your daily dose of inspiration