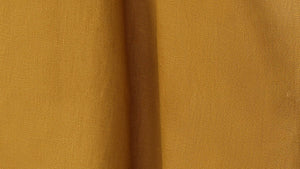 L&F's Linen is a heavy-weight linen with a beautiful refined texture. Enhanced by aero-washing in production, it features soft touch natural fibres, luxurious drape and breathability. This beautiful linen will soften further with wear.
Light on your conscience as well as your body, linen has many sustainable and conscious advantages. A natural fibre, linen comes from the flax plant, a low-maintenance plant that thrives in poor conditions without fertilisation and with minimal watering. Our brand of linen is sourced from a European-based eco-driven initiative that is working to shape a sustainable linen supply chain with transparent production processes. This high quality linen comes with the last word in luxury: Oeko Tex and Higg Index certifications and Fair Labor Association approval.
Composition: 100% linen
Natural
Moisture Absorbant
Breathable
How to Care
Because of its refined quality and natural fibres, Linen is more delicate and requires gentle care. Wash your garment at a cool temperature on a gentle cycle. Avoid using a fabric softener or mixing bright colours and whites in the wash. Gently reshape your garment while still damp and drip dry your garment flat in a shaded area. To protect your garment, cool dry iron on reverse protecting it with a cloth.

When caring for your garment follow the instructions on the care label.
What to look out for
When wearing your garment, be aware of coarse, sharp and abrasive surfaces, for example, jewellery, hard textured seats, walls. They can cause fabric abrasions such as pilling or snagging.
How to store
We recommend storing your Linen garment on a hanger to reduce creasing.
You may also like View all
Your daily dose of inspiration