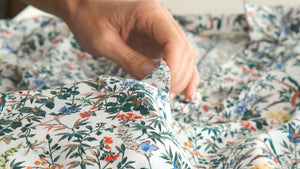 Due to its natural origin, Cupro Viscose feels luxurious on, drapes elegantly and has a smooth-looking structure that makes it an excellent alternative to silk.
Cupro Viscose is a woven fabric that is breathable, comfortable and has a beautiful colour intensity. It has absorbent features that leave you feeling cool and dry.
Cupro Viscose garments are your go-to when seeking a luxurious look and feel without compromising on comfort.
Lightweight
Natural Fibres
Moisture Absorbant
Breathable
How to Care
To wash your Cupro Viscose garment, use a cool temperature on a gentle cycle and avoid using a fabric softener. Turn inside out and avoid mixing bright colours and whites in the wash. To preserve the fabric quality and colour, dry inside out in a shaded area.
Iron your garment on the reverse and use a low-temperature setting. For more difficult creases, increase the iron temperature to warm.

When caring for your garment follow the instructions on the care label.
What to look out for
When wearing your garment, be aware of coarse, sharp and abrasive surfaces, for example, jewellery, hard textured seats, walls. They can cause fabric abrasions such as pilling or snagging.
How to store
We recommend storing your Cupro Viscose garment on a hanger to reduce creasing.
You may also like View all
Your daily dose of inspiration