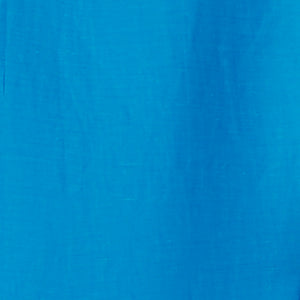 With a silky drape and luxurious feel, Cupro Linen Blend fabric stands out for its excellent moisture absorption, breathability and lightness.
A plant-based blend of Cupro and Linen fibres, its natural origin and a fluid texture makes for a great alternative to cotton or silk, ensuring all-day comfort and a luxe feel.
Cupro Linen Blend garments will allow you to enjoy the benefits of being durable, soft and skin-friendly. A fantastic choice for those who seek a flattering style with modern qualities.
Composition: 47% Cupro 31% Linen 22% Tencel
Lightweight
Natural Fibres
Moisture Absorbant
Breathable
How to Care
Wash your garment at a cool temperature on a gentle cycle and reshape gently while still wet. Avoid using a fabric softener, as it can encourage fibres to pill. To preserve fabric qualities, dry your garment flat. Optionally, hang it to dry in a shade and avoid using pegs.
If you want to iron your Cupro Linen Blend garment, iron it on the reverse on a low-temperature setting, increase the heat gradually if needed.
When caring for your garment follow the instructions on the care label.
How to store
We recommend storing your Cupro Linen Blend garment on a hanger to reduce creasing.
You may also like View all
Your daily dose of inspiration