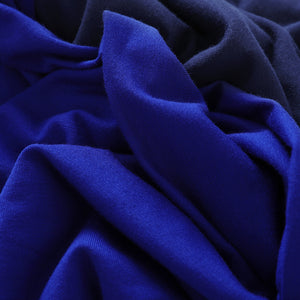 Meet our Bamboo Jersey. This delicious fabric is buttery soft, moisture absorbent and kind to your skin.
Bamboo Jersey feels luxe, it is known for its soft bounce, beautiful drape and fluidity that was designed to flatter and work with your body. Its 4-way stretch and good recovery ensure the fabric will not go out of shape after being worn.
Composition: 92% Viscose 8% Elastane
4 Way Stretch
Natural Fibres
Moisture Absorbant
Breathable
How to Care
Because of its natural fibre composition, Bamboo Jersey is more delicate and might require a little bit of extra care. Wash your bamboo garment on a gentle, cold machine cycle and avoid mixing bright colours and whites in the wash. Avoid using a fabric softener. To preserve fabric qualities, dry your garment flat. Optionally, hang it to dry in a shade and avoid using pegs.

Steamer or a cool iron are the best way to restore the shape of the garment and to smooth any wrinkles. If you decide to iron your garment, do it on the reverse and gradually increase heat if needed.

When caring for your garment follow the instructions on the care label.
What to look out for
When wearing your garment, be aware of coarse, sharp and abrasive surfaces, for example, jewellery, hard textured seats, walls. They can cause fabric abrasions such as pilling or snagging.
How to store
We recommend storing your Bamboo garment on a hanger to reduce creasing.
You may also like View all
Your daily dose of inspiration