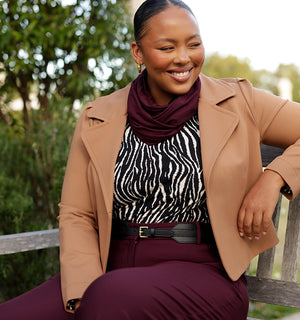 How To Do Winter Layering
Keep warm, stay stylish and maximise your investment pieces
The most effective way of keeping the winter chill at bay, dressing in layers does more than simply block out the cold. Done well, layering not only builds warmth, it's an opportunity to amplify your presence and maximise the value of your investment pieces. Here are all the tips and tricks you need to make the most of your winter layers.
What is Layering?
In fashion, 'layering' refers to the way we wear one piece of clothing on top of another for warmth or style.
Great for warming you up in winter, layering looks are also extremely versatile. Layering lets you transition from place to place, temperature to temperature and season to season; additional layers can be removed when necessary while still maintaining a 'put-together' look.
Get Started With Layering
A slip provides a good base for dress and skirt looks. An extra layer of course, adds insulation against the cold but the smoothing effect is great for enhancing the line of outer garments too. Safeguarding against the static effect created by tights and stockings, longer midi-length slips also stop skirts clinging to the legs ensuring you can step out freely with style and confidence.
Good foundations
A reversible slip like the Myah Reversible Slip is the ultimate in versatile foundations. With a scoop neckline to one side and a V-neck to the other, this slip sits perfectly beneath all top and dress shapes. And in your choice of Mini or Midi lengths, you have an option whatever your leg length or hemline.
Up To The Neck In Layers
While a slip will sit hidden beneath garments, layering up a variety of necklines creates more of a statement, framing a layered look. Polo neck tops are especially good for this. Not only do they add warmth through the torso, but they create contrast when layered under tops and dresses. For a more subtle look, pair necklines in similar tones and shapes, for example a polo neckline under a high scoop or boat neckline. Heighten the drama by playing up the contrast- vary colours and cut through a covered decolletage with V-neckline. 
Easy Add-Ons
Soft tailoring styles are easy additions to warm up your favourite work and weekend outfits. Look for styles in stretch jersey fabrics to ensure you can still move easily as you overlay garments. 
Cardigans like the Sandro Jacardi are simple yet effective. In L&F's signature Dry Touch Jersey, the Sandro Jacardi is designed to wear over both dresses and separates. Updated in the seasons core colours, there is a colourway to work with both plains and printed styles. Best of all, Dry Touch Jersey is a wrinkle-resistant fabric, meaning it won't crease when worn under heavier garments and it'll carry well in bags as an option when the temperature drops. 
The Long And The Short Of It
The key to successful layering lies in varying the lengths of the garments you choose. This helps balance out the silhouette and ensures your layers look refined rather than bulky.
Jackets work well over dresses and skirts for exactly this reason. Hip-length jackets are great for breaking up the fullness of the hipline while angled hemlines work to define the space between the waist and hips. Take a look at the hip-length Garcia Jacket and angular Mackenzie Jacket for inspiration.
Jackets, Coats and Outerwear
Outer wear layers style well over tailored jackets too. Open-fronted styles flow elegantly over skirt and trouser suit looks with belted waists giving you the option to wrap up warm and further define the waist. Look to coat styles like the Marant Trenchcoat with its midi-length hemline - this coat's super soft modal fabrication has a luxurious handfeel which provides a sophisticated contrast to structured suiting.
Textural Success
Play with texture to break up the look and add depth, which ultimately adds to the overall luxurious aesthetic. Soft bamboo jersey looks elegant over the structure of tailored suiting - the fluidity of the Cove Weighted Poncho in Black Bamboo for example, is amplified when worn over of more structured tailored styles.
TEXTURED KNITS
The season's Textured Knit works well in adding richness to an outfit. With the look of a fine knit, L&Fs Textured Knit jersey has the same composition as Dry Touch Jersey so unlike wool, it feels good even on sensitive skins. Add to it a print like the abstract Zen Garden or playful Party Animal and you double the textural power!
Layering accesories
Have Fun with Accessories
With the basics of your layering outfit in place, finish off your look with some versatile accessories. Scarves and ponchos are great for this as they can wrap or pack to create various looks, all with fabulous functionality.
The 5 Golden Rules For Layering Success
Start simple with good foundations and build warmth from beneath
Use layered necklines to make a feature of your layers
Choose easy-care, wrinkle resistant fabric for your in-between layers
Avoid creating a bulky silhouette by varying the lengths of your layers
Play with texture and print to add depth to your layered looks.
Trust your instincts and keep the purpose of your layering front of mind. Layering is just another way to have fun with fashion, and what could be more fun than wearing as many of your favourite clothes as possible?