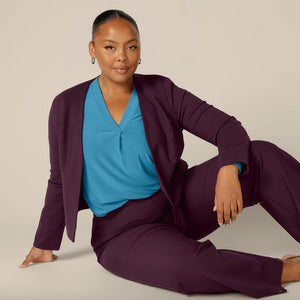 how to use colour blocking to re-style your look
Make an impact, maximise your investment pieces and impress your sense of style, colour blocking has many benefits. Here's how to do it and how to it well.
What Is Colour Blocking?
Colour blocking is a styling technique that builds an outfit by pairing garments in contrasting colours together.
Typically using two to three solid colours (not prints, which will dilute the impact), the effect of stacking a top in one colour above pants or a skirt in another colour creates a block effect. Using the power of contrast, the graphic impact of a colour blocked look creates a statement outfit.
What's Colour Blocking Good For?
Colour blocking is an easy way to update your wardrobe staples, helping you to make the most of your investment pieces.
Whether it's workwear suiting, a luxurious pair of pants or a timeless jacket you bring out season after season, adding a top with a pop of colour can totally transform a well-worn look.
Create maximum impact with minimal effort. The good thing about colour blocking is that the colours do all the work. Styles can be simple and comfortable, and more often than not, this look will work with much of your existing wardrobe.
A colour blocked outfit always looks modern. The clean, graphic lines that solid blocks of colour create can't help but look stylish and contemporary.
Colour blocking works for women of all body shapes and sizes. Tall or petite, curvy or sleight, quiet or confident, colour blocking is a styling technique that translates for all!
Colour Blocking Basics
Colour blocking works best at the simplest of levels so there's no need to overthink it. Stick to the basics. 
The colour wheel is made up of the 3 primary colours: red, yellow and blue, and the secondary colours: orange, green and purple which come from mixing combinations of the primary shades.
THE POWER OF THREE
If in doubt, the power of 3 will not let you down. Primary pairings of red, yellow and blue team well together, just as combinations of the secondary colours complement each other.
A primary palette works best when colours are kept bright and pure, creating playfully bold outfits. Secondary combinations offer greater variety of tone. For example Sage Green, burnt orange and Mulberry are more subtle variations of green, orange and purple.
Colour Block a ...
Bold Statement
Work the colour block to maximum effect by going for colours that have the greatest contrast. That's colours that sit opposite each other on the colour wheel. 
Keep the look slick by sticking to two main colours and only add a third as an accent on a belt, scarf or other accessory. 
The truer to pure primary and secondary shades your palette is the brighter and bolder a statement you'll make.
Work a bold colour blocking statement into your existing wardrobe by using navy as your base. This could be navy pants or a skirt or even a navy suit. As orange sits opposite blue on the colour wheel, pair tops and separates in orange shades such as Koi.
Ease into colour blocking by...
Blocking in Colour Families
A safe way to enter into the colour blocking scene is by choosing colours from the same colour family. That is colours that sit next to each other on the colour wheel, which are more subtle in contrast than colours that sit opposite each other. 
Hues may still be bold but the harmony between the shades makes the colour block look easier to embrace for those more tentative about wearing strong colour.  
How this would translate for your wardrobe is pairing shades of blue and green or blue and purple, for example pants or skirts and tops in shades of Navy and Petrol or Mulberry and Opal blue.
Colour Block Your Favourites
Monochromatic Blocking
Work with what you love, if you have a favourite colour to wear or your wardrobe is made up primarily of a single colour, then try monochromatic colour blocking. Chose your colour and seek out garments in various shades.
By combining muted undertones with brighter notes, bold shades with pastel tones, and dark hues with lighter overtones you can create a colour block effect with just one single colour.
Work the colour block trend with your favourite palettes by playing off pastels and brights. Textural and tonal shades of one colour can create colour blocking pops. Think Opal blue and Navy blue, Seafoam, Sage and Olive green, Mulberry and Fuchsia or Dusty Pink.
Top Tips For Colour Blocking Success
Whatever shades you choose, keep the saturation of colour balanced. Avoid colours with a washed out look, and go for colours, whether they are pastels or primary shades, that are vibrant.
Keep your look sharp with well-fitting jackets and pant shapes.
Use darker colours on areas of the body you want to downplay and lighter shades in places you want to highlight.
Keep it simple and colour block your outfits with no more than 3 colours.