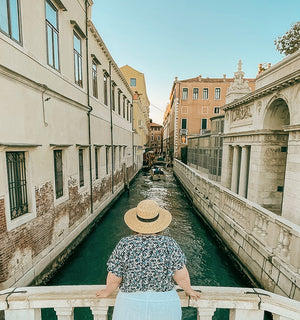 Cassandra Leigh Does Italy
HER TIPS ON WHAT TO WEAR, EAT & SEE
Travel With Cassandra
With her suitcase brimming with Leina & Fleur, L&F afficienado, Cassandra Leigh travels to Italy on a European escape of epic proportions. Travelling from the Amalfi Coast to Cinque Terra and on to Rome, here's Cassandra's guide of what to eat, see and wear.
WRAP DRESS WONDERS
Amalfi Coast Dreaming
One of our reasons for choosing to stay in Praiano on the Amalfi Coast was that we wanted somewhere not too packed with tourists. The other reason was @pirata.praiano. As soon as we saw the pics of a bar in a cave on the steep Amalfi Coast cliffs and an amazing restaurant that hangs right over the sea, well we were sold.

Getting some sun in Positano. Wearing my Maggie wrap dress (my fave style) in the Aquarius print. This dress goes from beach to cocktails perfectly, and the beauty of the print is that if you're still a little wet no one can tell - 167cm, size 22. I'm really hoping there are more Maggie dresses this summer 🤞🏻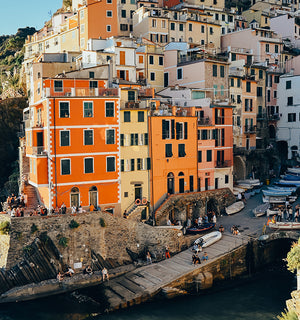 Location:
Cinque Terre, Italy
INDI PANT IN BLACK
The Ultimate Travel Pant
When they say Indi is the ultimate travel pant, they mean it! 3 planes, a train and 40 hours later, she still looks and feels fab (me not so much 🤣).

Comfy and casual for travel, then a quick change of shoes and top (into Gitana Bowie) and I'm ready for cocktails 🍹 - stats - I'm size 22 and 167cm, and she sits between full length and 7/8 length on me.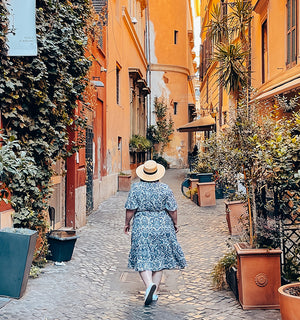 TIME FOR TEACUP
Find All the Best Delights
Exploring the alleyways of Roma, that's where you find all the best delights.

Iconic Trevi Fountain. It's as beautiful as all the pics, although a whole lot busier than what you see. We got there at 7:30am and it was still thronging. Also, can we take a moment to appreciate my gorgeous dress?! Lightweight and breathable, she's perfect for summer climates and the blue and white print is just my cup of tea!🤩 👗 ⛲️
What our customers are saying