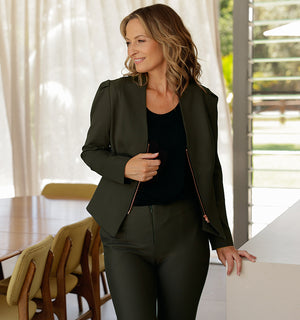 Embrace the softer side of suiting for modern workwear style
A great way to enhance your workwear wardrobe, soft tailoring delivers comfortable, wearable, work savvy styles. But what exactly is soft tailoring and how can it work for you?
WHAT IS SOFT TAILORING?
Soft tailoring deconstructs traditional suiting styles such as jackets, pants and shirts. Where formal tailoring builds up layers of structure with interfacings, fusibles and linings, soft tailoring strips all that away, leaving the outer shell to stand on its own.
The result is a softer, more relaxed look and feel. This lightness of structure gives a more comfortable, modern look that presents elegance without ceremony.
Feel The Freedom Of Soft Tailoring
Less rigid in its construction, soft tailoring offers more freedom to move. Refined construction and fluid
fabrics create syle without compromising on fit. Best of all, soft tailoring garments are easy to care for - no dry cleaners required!
What Makes Soft Tailoring Special?
Soft tailoring is not all about taking aspects away, good soft tailoring has noteworthy features of its own. 
Strong seams, reinforced panels and taped hemlines do much to power up traditional tailored styles so without these, soft tailored garments need other ways to give shape to their silhouette. This can make their construction much more interesting...
clever construction techniques
L&F's soft tailoring for example, features a range of clever construction techniques. Well-positioned darts are used to underpin the fit of some jackets fit while grown on collars reinforce the lightness of fabrication on others. Buggy linings and half linings serve to preserve the shape of jackets too, through the back and shoulders where they get the most wear.
Sleeveheads too, are prime real estate for soft tailoring to really make a statement. Take the double tucks in the sleeveheads of the Gianni Jacket, which define the shoulderline without the need for power-dressing shoulder pads.
Soft Tailoring Jackets
Explore the L&F's jacket collection...
More Than summer Linen
Soft Tailoring Fabrics
The fabrics themselves have more of a starring role in soft tailoring, they are after all, the only thing holding up the garment. The lighter structure of soft tailoring lends itself to lighter weights of fabrics, which is why soft tailoring typically comes to the fore for summer. But that's not all soft tailoring is capable of...
TAILORING WITH STRETCH APPEAL
Soft tailoring also allows for stretch fabrication, increasing the comfort and wearability of these styles. The Garcia Jacket for example, is made in double-knit ponte which gives a 2-way stretch while still being capable of holding a stable structure.
L&Fs scuba fabric too, has 4-way stretch to work with every movement of your body. So whether you're flexing your desk muscles, leading a dynamic presentation or moving from meeting to meeting, your clothing holds true and unrestrictive.

Soft Tailoring Surprises
While soft tailoring jackets are easy to identify, many other styles also benefit from soft tailoring techniques including tops and dresses. Here's some of our favourite unexpected soft tailoring styles...
Softly Tailored Dresses
In scuba stretch fabric, the tailored construction of the Nova Dress in Sumi Ni Scuba holds its shape and its sculptural silhouette while still feeling easy and lightweight to wear. 
Tailored panels contour the bodice before flaring through the skirt to add soft volume. A front facing around the neckline supports the clean cut line.

THE ARLEY SHIRT
The Arley Shirt has the essence of a shirt with the nonchalance of a blouse. Though soft in structure, the crisp points of the Arley Shirt's collar commands business-like stature.
Free from the constraints of a button placket, this pull-on shirt features a centre-front pleat to enhance the drape through the front while to the back, four vertical pleats replace the archetypal shoulder yoke to create greater freedom through the back. Worn tucked into structured pants, this softly tailored shirt still holds strong for workwear chic.
THE ELLERY PANT
The Ellery Pants have a back waistband to fit their structure to the waist while top-stitching details reinforce the front pleats and tops of the pockets. The freefall of these wide leg pants really showcases the luxe feel of the specialist Tencel fabric. All set to take you from day to night, these elegant pants dress well as a sophisticated evening wear trouser.
SHOP ELLERY PANTS
Soft tailoring for all seasons
Soft Tailoring Layers
Soft tailoring is not restricted to a season by its fabrication. Yes, the lightweight fabrics can be played up for summer but L&F's sophisticated jerseys like the ponte jersey and modal, stand firm all year long.
The stretch of our jersey tailoring too, allows for comfortable layering beneath so layer up your slips, long sleeves and jacardi's and still move freely in your deconstructed jacket.
That's soft tailoring in a nutshell. So if knowledge is power, then take this as your cue - put the power suits to one side and style up your new soft tailoring look with the power of insight and understanding.
7 Reasons To Love Soft Tailoring
The lighter of structure of soft tailoring garments enhances their comfort
Soft tailoring garments are easy to care for - no dry cleaners required!
Soft tailoring requires designers to think about alternative ways to create structure and fit garments making for interesting construction details.
Luxe fabrics - as the only think holding up a soft tailoring garment, quality fabrics are a must!
Soft tailoring styles allow for stretch fabrication, and we all appreciate stretch-appeal!
Soft tailoring garments can transform your eveningwear style.
Soft tailoring works for every season.