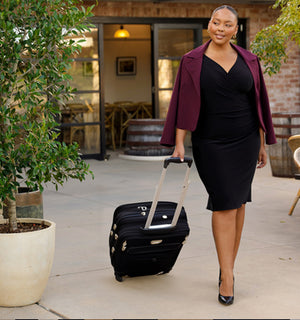 Mix & Match Your Travel Capsule
TIPS ON WHAT TO WEAR WHEN YOU GO TRAVELLING
Travel season is back! It's finally time to pack your bags and take flight for adventure. Whether it's an overseas escape or a domestic getaway, the thrill is the same.

Probably the hardest part about travelling is figuring out what to pack! We thought we would give you some refreshers on how to travel in style, and make commuting across the globe that little bit easier. Take a look at how you can mix and match your wardrobe and make it last the distance.
Clothes For The Long-Haul
When it comes to travel outfits, you want to strike the balance between 'ultra-comfortable' and 'effortlessly chic'. For the ultimate long-haul comfort, you cannot go wrong with our Bamboo Essentials. Wearing a bamboo fabric top will make you feel like you're snuggled up in your favourite pjs but you'll look beautifully polished. Find your style now and shop our essential collection.
"I purchased the Desiree Scarf in Petrol Bamboo. Perfect onboard the aircraft with varying temperatures throughout the flight and again on a chilly 6 degree arrival to Christchurch. Generous amount of fabric, versatile, warm and stylish." - L. Brisbane, QLD

Travel Wardrobe Essentials
our wardrobe basics will have you stepping off and out in style
Have No Regrets
There's nothing worse than deciding to wear jeans on your flight and regretting your decision within the first hour. If dresses aren't your style, you can find comfort in our range of Jersey Bottoms. Made from our Dry-Touch Jersey they are known for their beautiful drape, colour intensity and signature softness that feels amazing on. Once you put them on, you'll never want to take them off! If you need some inspiration, make sure you have a look at our Essentials Collection, designed to make crafting the perfect travel wardrobe a breeze.
"My Monroe Pant is such a great traveller. Wore them to recent conferences to America. Just love love that no ironing is required. Thanks L&F ♥️" - L.S. Brisbane, QLD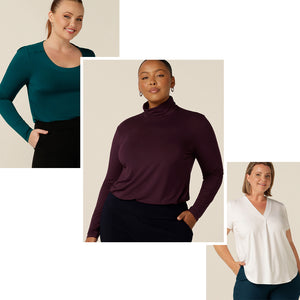 WITH L&FS RANGE OF NEUTRAL BOTTOMS, ANY AND ALL OF OUR ESSENTIAL TOPS WILL MATCH
Travel Pants & Skirts
The Bottom Line
The secret of a great travel capsule wardrobe lies in hardworking bottoms. Wide leg pants and jersey skirts are comfortable, practical and crease resistant - great for packing, in-flight wear and for rolling up in your hand luggage!
Select your style, black or navy colourway and any of L&Fs Essential Top styles will match.
"I love wearing the Presley Pants. They are perfect for a lazy day at home and lend themselves so well to work and weekends. They are so comfortable and perfect for those days when comfort is the priority, however style is never compromised." - L.M. Sydney, NSW
Strike the Perfect Balance
Dresses make a good alternative for sophisticated travel style. Comfortable to wear, L&F's jersey dresses are luxurious in quality, beautifully flattering and also crease resistant! This means you can relax knowing you can step off your long-haul flight exactly the same as how you stepped on.
"I am fairly new to the world of wrap dresses but my goodness! The Fiona Dress makes me love my curves like I never have before. It's also my first L&F dress with pockets!!!" - E. Canberra, ACT
L&F Essentials are the perfect way to travel in comfort and to build a hard-working travel capsule wardrobe. But don't just take our word for it...
"Just a little of my L&F colour themes packed for a long awaited Mediterranean and Turkey holiday, flying out tomorrow. Work tools down for 7 glorious weeks! I've loved how easy it's been packing, just roll up n pack." - Susan, NSW
THE TRAVEL WARDROBE - UNPACKED
The Customer Edit
Holidaying in Europe, L&F customer Susan shows how she packs for the long haul and maximises her L&F wardrobe to create luxe looks for night and day throughout her stay.