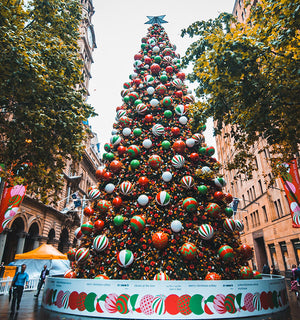 L&F Christmas Gift Guide 2022
christmas gift inspiration from the L&F Team
Looking for some gift-giving inspiration this Christmas? The L&F Gift Guide offers something for everyone with present ideas that are useful, meaningful and just a little bit different.
Lifestyle-Inspired Gifts
IT'S IN THE BAG
"I've been gifting a lot of bags this year: travel hold alls, lunch bags, picnic baskets depending on my friends' lifestyles. I like to give gifts I know people will get a lot of use out of." JAZZY (left, wearing the Blaize Shirt in Siren>>)
SERVED UP ON A PLATTER
"I like getting gifts that I can use. Whether it's a coffee cup or a serving platter, whenever I get out that item, I'll think of the person that gave it to me. It's this idea that inspires me when buying gifts for others." TRACEY (right, wearing the Darci Dress in Pebbles >>)
Shop Local Gifts
BOWERBIRD, MURWILLUMBAH
Bowerbird is a store filled with unique bespoke offerings. At Christmas time, I'll pick up the calendars that 'Santa' gives my mum and myself each year!
WELCOME TO COUNTRY
Welcome To Country is a 100% indigenous-owned market place for indigenous products. For hard-to-buy-for people, they offer lots of experiences which can be enjoyed all over Australia. -FLEUR
Gift Experiences
"Give an experience, it's something that your friends will remember forever. Try a simple picnic hamper voucher or a paint and sip night out and enjoy spending the time together!" KIRSTY (above, wearing the Blanca Jumpsuit in Candyfloss Spot>>)
Pamper Gift Packages
"You can't go wrong with any kind of pamper gift. I love to receive anything to do with self-care so that's what I give. Whether it's a face mask or a spa voucher, there's an option for all budgets." HELENA (wearing the Terry Top in Etoile>>)
JOLENE (left) wears the Maree Dress in Black>>.
"My favourite thing to give at this time of year is Ecoya's Pine scented candle. It smells like a fresh Christmas tree!" SHILLEEN (centre)
"I always love giving family travel gift cards because it gives them the incentive to get adventurous and do something for themselves." DANI (right, wearing the Alexis Dress in Black>>)
With the gift-giving taken care of, now's the time to sit back and enjoy the festivities. After the blur of a busy year, Christmas is the perfect time to enjoy the things that matter most in our lives. So whatever Christmas means to you, may you enjoy all of the precious moments that it promises.
You may also like View all
Your daily dose of inspiration