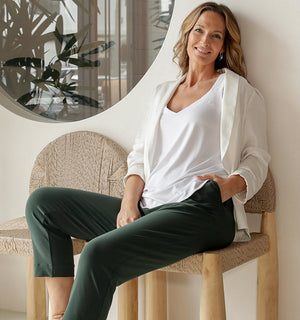 So what's different about style in your 40s? Ultimately, not much – the basics of good style do not change as we progress age brackets. What may change however, is you. Not just how you look but how you feel about yourself too, and both can have an impact on how your clothes look and feel. So how best should you be developing your style so it moves and works with you? Find out how to make the most of style in your forties and beyond with the L&F Guide to Fabulous Fashion Over 40.
1. Get the Measure
The first step is getting the measure of where you're at in the journey – what do you feel differently about? This might be something tangible like how your pants are fastening or where necklines are sitting but it could also relate to your mood – how your favourite dress makes you feel or how dark the colours in your wardrobe look when all you want to see is sunshine.
This step is not about attaching positives or negatives, it is an assessment of facts alone so get the measure of the situation. Take your measuring tape and consult the size guide before you buy next – they're just numbers not a measure of your beauty or worth. If you need to size up or size down, then so be it – comfort equals confidence!
2. Flatter Your Best Features
Make the most of what you have, and yes, we all have something to be proud of! Build style confidence by choosing clothes that highlight your best feature – play up your killer curves, show off your slender ankles or make those bright eyes pop.
Make the best of the rest – empower your look with good foundations and ensure you have well-fitting lingerie. A good bra has the power to redefine your silhouette, lifting and supporting heavier busts to reveal waistlines or boosting and shaping softer tissues to add definition.
3. Choose Your Colour Story
Regardless of size or shape, colour is a simple way to transform the way you look and feel.  
Renowned for their sophisticated style and timeless aging, French women are known to choose navy over black as it reflects more flatteringly on the skin. So too, as skin tones and hair colours change often to softer shades, paler palettes and pastel shades can look more harmonious.
Colour is a powerful communicator so use it to convey your new energy: embrace an optimistic mood with cheerful shades and playful prints, make a statement in bold contrasts or showcase your sophisticated side with neurals and tonal palettes – pick your statement style make it your signature.
Brighten up the world with a playful print, make your presence known with a bold contrast of colours or stay calm and equalizing in neutral tones.
4. Make Wardrobe Investments
Invest in clothes that reflect the richness of your life. We're not talking about your bank balance here, but the wealth of your wisdom. By forty you qualify as a connoisseur so look out for the details that will communicate this – the darts on a tailored jacket, the button fastenings on a pair of pants, the pleats on a wrap-front dress, these are the small touches that elevate a garment and by consequence, your style as the wearer.
Two or three investment pieces is all you need and then you can mix and match in your basics. Make block colours your mainstay then add a pop of print to add depth to your look.
Look for the details: pleats, tailored tucks and clever darts all enhance the fit of garments while covered buttons, top stitching and deep hemlines add luxury.
5. Shop Style Not Trends
Great style is all about showcasing your best bits – that's not just your physical assets but your personality and outlook on life too. Style is unique to the individual. While fashion should be fun, (and there are times when it is frivolity at its most fabulous!) trends are not compulsory. Use them as inspiration not regulation, and stay true to what you know makes you feel good.
What our customers are saying