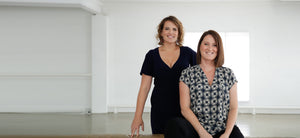 For many people, we will be known historically as Leina Broughton however we are so excited to have transitioned into our new name Leina & Fleur.
The brand Leina Broughton started in a home garage in Gold Coast ten years ago but six years ago that all changed when we officially joined forces. We didn't know each other but there was an undeniable synchronicity of when we met (a sliding doors moment!), our similarities, our complimentary skill set, our work ethos and a belief that our intuition was in check and that this all made sense. We didn't know it at the time, but it turns out that our approach to gut instinct decisions backed with knowledge and bravery would become the strength of our business decisions.
This wasn't a halfway decision to head into partnership together, true to us, it was all in. We were going in as 50/50 partners with a few clear decisions made. We would set up our operations with a software system (which we later went on to receive a federal grant to create), we would focus on Australian Made and that if it all went pear-shaped we had a 'get-out' card for 3 years time where we could both walk away with no regrets.
Right from the beginning, we knew that the self-named brand would need to be reassessed as we went, but for then the focus was getting past that 3-year mark! 
It turns out that time was just what we needed.  We became Telstra Business Award finalists, received a grant to design and build our own custom software for the business, moved to new premises that were 4x bigger than our original offices and our wonderful customers increased exponentially.
Our customers have been such an important part of our journey and have not only been the face of our brand over the last 2 years with our Customer Supermodel Shoots, they have also been the support that has given us such incredible inspiration. This is something that we will always be so thankful for and why we are so passionate about staying connected to our community.
But of course, there was always that unfinished and opened loop of the name of our business. Of course it was a brand name but there was such a gap as the reflection of who we are as a business and how we operate. We've always looked after different parts of the business, it's our strength. The yin and the yang, the operations and the marketing, the money and the design. These parts can't operate independently, these parts need each other to work.
After a week-long intensive in Vegas for Business Mastery (yes the bizarreness of that is not lost on us) we came back on a mission, we had chosen a new name, Womenco, and we were on a mission to make it a reality!! Everything was planned, we had a clear idea and nothing was changing our minds… Right at the eleventh hour, we decided to hold a focus group with six key customers to make sure our passionate vision made sense. We bought the group together from 3 different states with strict instructions on keeping it all under the radar and we unleashed the name… let's just say the response was not what we imagined, not even close!! Straight away the group assumed that we were planning to sell and move on from our very Community Focused Brand. Lucky we have learnt how to be agile ninjas over the years! It was back to the drawing board to find 'the' name. Business continued as normal but it still wasn't right...
Fast forward to a rainy day in February (right before the world stepped into crazy land) it was like the heavens opened up and said what are you doing ladies, it's time!!! In a whirl of emotions (we do nothing by halves…) the name of leina & fleur flew in the conversation and we both literally stopped in our steps, looked at each other and said, I like it. We didn't need a tricky or neutral name to explain who we are, it just needed to say us.
So here we are, in the middle of a global pandemic deciding that the time is right to make a change and make this year one that goes down in history as crazy yet momentous.
We thank you for your incredible ongoing support and for those of you that know us well, we thank you for celebrating with us and for nodding your head thinking, spot on!