As winter bites, we look to the things that spark joy and add warmth to our lives. From the longer lengths of sleeves and skirts to cosy layering. From the fabulous fundamentals that build workhorse capsule wardrobes to the stand-out pieces that shape style statements; prints that play to plains with depth, high winter is a season in which to celebrate not hibernate.

Black and white patterns create graphic effects that contrast well with the seasonal palettes of Mulberry and Petrol. Meanwhile, softer notes of apricot, ecru and blue gum add complimentary tones to lift your winter outlook.

And with our seasonal heroes, the Marant Trenchcoat and the Garcia Jacket offering a wealth of colourways, there is opportunity aplenty to transform these wardrobe wonders again and again.
Enjoy, Fleur x
Thornbirds Are Go!
Fissions of white noise in a herringbone pattern play out behind the swooping white lines, like soaring seabirds to coin the Thornbirds print.
A contemporary dance of black and white that complements and contrasts. The winning Dakota Top complies for effortless work wear chic while the classic cut of the Monroe Pant is reimagined in this graphic print.
Soft and fluid in Dry Touch Jersey, Thornbirds bold lines work well with tailored separates to make strong silhouettes. So go ahead, assert your style!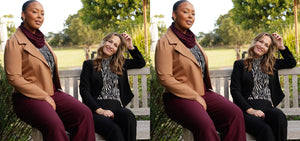 Winter Weekending
Off Duty Style
Offering the complete work-to-weekend wardrobe, Mulberry takes on a tailored aesthetic for sophisticated style and corporate chic. With its richness of tone, Mulberry is the season's alternative to black but pair with a black and white print and you've got a look that's cool, contemporary and utterly timeless.
Relax and enjoy with the laidback silhouette of the Tobie Pant and luxuriously soft Bamboo Jersey. Let Mulberry transport you from the working week to a weekend escape where log fires smoulder, baked camembert melts molten and afternoons linger long in good company.
STYLE NOTES
Elevate Your Style
Embrace the versatility of the Myah Reversible Slip, a must-have addition to your winter wardrobe. With its scoop and V-neck options, this slip offers endless styling possibilities, especially when it comes to chic layering with opaque tights.
Pair the Myah Reversible Slip with opaque tights for a classic and refined look that exudes timeless sophistication. The opaque tights create a sleek and polished appearance, adding an extra touch of warmth to your ensemble.
A fresh look
In With The Nouveau
Shades of Australiana add a breath of fresh, eucalyptus air to base notes of black to evoke a 'Nouveau' look.
Slick yet feminine, the clean lines of the Leith Top and Andi Skirt sit alongside the feminine peplum of the Noah Top for example, to offer a collection for every sense of style.
COMING SOON
Unveiling the Next Phase
Get ready to elevate your winter style to new heights as we prepare to unveil the next phase of our highly anticipated High Winter Look Book.
Mark Your Calendars
SUNDAY JULY 2 | 12PM AEST

GET $25 OFF

Receive our newsletter and save off your first order!