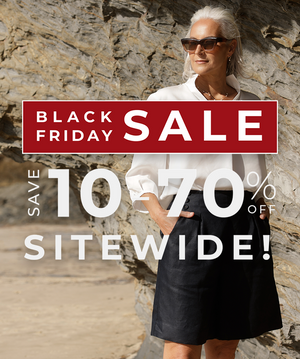 Yes you can. You can use your Rewards Codes, Welcome Code and Store Credit, however. Only one can be used per transaction.
Absolutely everything will be on sale. If it's on the website it's on sale!
No discount code is required!
Absolutely everything will be repriced so all you have to worry about is adding to your cart and checking out as quick as possible.
Orders will be dispatched up to 5 business days from your order date.
All orders are sent Express Post which can take up to 3 days to arrive after dispatch.
Due to the increased volume of orders from the Black Friday Sale, this is slightly longer than our usual dispatch time. But we are working hard to keep these times as short as possible!
Items on your wishlist or in your cart will be there when the sale goes live but will be be removed once they sell out.
Items in carts or on wishlists are not secured until payment has been made. It really is first in best dressed when it comes to sale shopping so do everything you can in advance to streamline your checkout, like saving your correct payment details to your L&F account and making sure shipping information is up to date.
Our customer success team may be able to cancel or change your order during office hours but in sales there's no time to waste!
To make sure you don't miss out, we recommend you place another order for the items that you do want and return the items you don't want later for a full refund or exchange.