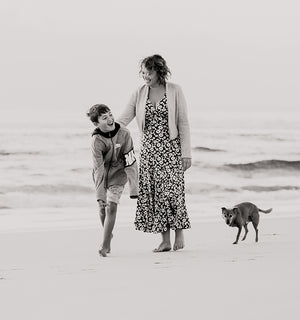 A Farewell Message From
Leina Broughton
It's time. Leina & Fleur is ready to evolve by design – a farewell message from Leina Broughton:
"After 12 years of celebrated success at the helm, I'm stepping aside to explore and ignite new creative pursuits outside of L&F.  I started the label in 2010 purely with the vision of creating easy solutions for the modern professional woman. Three years later, I met Fleur through a contact, and it was a kismet and true sliding doors moment. With our complementary skill sets, a natural discussion of a partnership came into the conversation with such ease and grace that the decision felt like it was made the moment we said it aloud. 
It's been the true power and strength of our relationship that makes a pivotal decision like this one so important and timely.
We know it's time for us to fly our own way, and discover our own path and voice while cheering the other from the sidelines. I'm excited for Fleur to take the helm with confidence and a clear vision. 
Over the years, I've realised my passion is less about running an organisation, and more about empowerment and I'm ready to step out for a very long overdue break and to let my next adventure unfold from there.
I'll use this time to reignite my creative energy, so now, for me… It's time".
– Leina Broughton
We are so excited about what the future holds for us all. Leina leaves a strong legacy that our team are dedicated to uphold. We are committed to our long-term vision and growth of Leina & Fleur.
We will continue to be active participants of change within the fashion industry, where quality, fit and style come together to celebrate women. It's quite simply the L&F way.