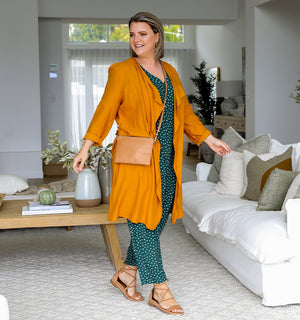 The 7 Styles You Need To Perfect Your travel wardrobe
Own your weekend getaway with the perfectly curated capsule weekend wardrobe.
Keep your style loaded, your luggage light and the unpack to a minimum with the L&F Getaway Guide as we reveal how to style your weekend wardrobe with just 7 key pieces!
Arrive In Style
Travel is best done in comfort so keep clothes soft and fluid - the soft waistband and dropped crotch of the Tobie Pant make them a perfect travel companion!
Layer-up your look to counter varying travel temperatures with a breathable bamboo jersey top and a statement jacket like the Yoko Trenchcoat.
Stepping Out
You've arrived, bagsed your bedroom, and you're ready to see what's hot around your destination. In outfit terms the mood is:
cool – take all the help you can get and think climate control; go for breathable fabrics that keep you feeling fresh as a daisy.
FYI: L&F's specialist EcoVero fabric promises breathability and the structure of its weave enhances the fluidity of tailored styles. It works perfectly for the Parker Jumpsuit with its play of stylish seamwork and playful volume.
composed - imagine your inner conversation as 'I'm an expert traveller and have arrived as if Jetstar was a first-class private jet service that chauffeured me to my Airbnb door.' Keep lines clean and your silhouette sleek to emit that in-control glow. This look, layering the Arley Shirt with the Hansel Top and Diaz Pant in Black epitomises the spirit of the elite.
and in the know – it's time to showcase your style in a new arena so show them the best you. Make a statement with a bold colour or print and let your destination know you have arrived!
The Hunter Spot print's take on the classic polka dot brings the spot pattern bang-up-to-date.
Dressing For Dinner
If daytime dressing is all about the layers, then make dinner a point of difference and strip back your look.  
The luxurious glide of the Hunter Spot Print's Ecovero make up, makes it an effortless way to look 'dressed' for a night out. Go for classic elegance in the Chyka Dress or bring a contemporary edge to the table with the Parker Jumpsuit.
Style Tip: Heighten the difference between day and night-time looks with refined accessories. Think understated elegance and keep jewellery fine, handbags discreet and colours neutral.  
A Stylish Breakfast
Time for breakfast - gather your thoughts and get energised for the day ahead. And one simple piece is all you need to communicate your style authority - a shirt. A crisp collar will create a polished look without you even having to try.
The Arley Shirt combines a collar that's ready to pop or drop to suit your style while her pull-on fit, back pleats and tucked 3/ 4sleeves deliver a relaxed, off-duty take on the classic style.
Style Tip: BYO jeans and pair back for a look of pure contemporary cool.
Seeing the Sights
For seeing the sights and shopping the scene; for the heart of your weekend getaway you'll need an outfit that asserts your prowess as weekend getaway queen.
Use layering to transform your favourite fashion pieces. L&Fs Essential Tops pack lightly and tightly into all sizes of luggage to offer up layering and styling solutions that will transform outifts with minimal effort.
Play up contrast colours with bold
accessories.
Style Tip: Like all good adventurers, keep practicality front of mind. Getaways are best performed in feel-good footwear so preserve your heels for an injection of evening glamour.  
Downtime and Day Spas
All good getaways need some downtime to relax and unwind. Whether it's lazing by the pool, enjoying a day-spa indulgence, or reading in front of the fire, you need clothes that enhance your experience. Think back to your travel outfit – all the benefits still apply and now you can really revel in them!
With your getaway wardrobe in the bag, be sure to scale up your weekend wanderlust because this is a formula you'll want to roll out again and again!
What our customers are saying