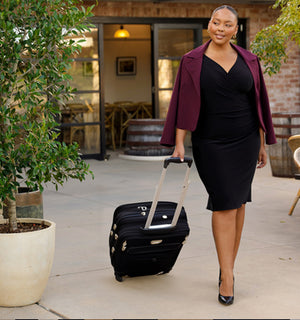 The Work Travel Capsule Wardrobe
What to wear for business trips and work conferences
Dressing for work five days a week can be a challenge for any woman's capsule wardrobe. Throw into the mix work travel and the task takes on an extra level of complexity. We're not a fashion brand to shy away from a challenge, however, so whether you're looking for business travel outfits, work trip packing tips or a conference capsule, here's your business travel style breakdown…
Fly In, Fly Out - What to Wear For The Whistlestop Business Trip
Flying from city to city for a day of meetings requires clothing that works just as hard as you do. A good business travel outfit should be wrinkle free, comfortable, demure under transit pressures and still be en-pointe for corporate dress codes. 
To keep your wardrobe working for you rather than against you, ditch formal business attire and go for a more business casual look. Instead of the structure of traditional suiting, go for soft tailoring styles that will move with your body. Opt for softly tailored workwear jackets and separates that have designer details so that in the absence of formal construction, you still have elements that will elevate your style.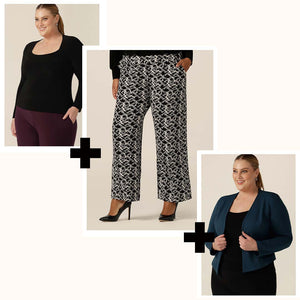 Travel For Work Outfit #1
The Amari Top in Black, Monroe Pant in Thornbirds and Mackenzie Jacket in Petrol
"The Monroe Pant in Thornbirds is my first printed pant. I am travelling quite a bit for work and decided these would be a great addition to my travel work wardrobe. They look and feel great! " - J. VIC
Easy-Care Fabrics for Easy Travel Wardrobes
Fabrics are crucial too. Fabrics with an element of stretch tend to be more wrinkle resistant. Perfect for in-flight wear, they feel good when sitting and recover without crease lines when it's time to disembark.
Look out for L&F's Dry Touch Jersey and Ponte fabrics, which offer multiple benefits for business travel outfits. Wrinkle free, Ponte pants and jackets have a firm 4 way stretch that give freedom of movement while maintaining their structure. Also wrinkle resistant and with 4 way stretch, Dry Touch Jersey has a softer drape that works well for soft suiting and work tops.
The Overnighter - Carry-On Only Business Travel
Packing for a business trip with an overnight stay and only carry-on luggage? You'll need no-crease clothes that pack small and impact big. Colour and print are easy ways to make an impression. Look for jersey separates that will roll up compactly in your bag to mix and match for two days of workwear outfits. 
If you prefer separates, choose a print top and a plain top along with bottoms in coordinating colours to make for easy styling. If you go with garments that match back with each other, you've got options should you encounter any unexpected happenings like spills and stains.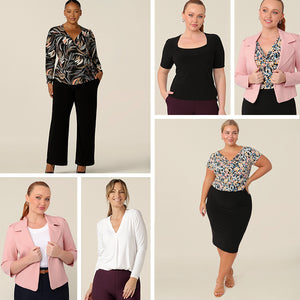 Travel For Work Outfits #2
Mix & Match classic separates and printed tops for an overnight business trip
ELEGANT DRESSES FOR WORK TRAVEL
There's no reason a classic dress can't travel with you, in fact dresses can be more comfortable than trousers for business travel. Go for knee length or midi length skirt hemlines, and a secure neckline for modesty and movement in the face of aeroplane steps, transit dashes and Uber exits.
"I love, love, love the Garcia Jacket. I wear it a lot for when I travel to America for conferences. This jacket is just the best!! Elegant, stylish, versatile, comfortable, easy maintenance with NO ironing! Garcia.. I'm in trouble 😂♥️👌" L.S, QLD
The Conference Capsule - 3 Days of Business Conference Outfits
With often 3-5 days worth of speakers and seminars, networking and nighttime receptions, for a business conference you need conference outfits with style as switched on as you are.
CONFERENCE OUTFIT #1 - THE WELCOME RECEPTION
First impressions will stand you in good stead for the rest of the event so show up feeling confident in an outfit you feel comfortable in. A wrap dress is a simple way to make an impact at a work conference. Less formal than suiting, an elegant dress is a good alternative for workwear in an alternative setting. A long sleeve or ¾ sleeve dress will keep the focus on your face which will assist with that all-important relationship-building eye contact. A print too, will help establish presence and can even serve as a great ice-breaker, giving others a talking point with which to engage with you.
"Fabric has a lovely feel. I took this [Jaime] Top to a conference and it didn't crease at all." - R, VIC
CONFERENCE OUTFIT #2 - SPEAKER SESSIONS & SEMINARS
For a conference day in situ at speaker sessions, you'll want to be comfortable sitting for long periods of time. Stretch jersey waistbands and wide leg pants like the Bradley Culottes are perfect for this. 
Go prepared too, with soft layers to counter strong air conditioned climates. The longline Marant Trenchcoat in super soft Modal fabric is easy to wear and pulls together an outfit for networking breaks. The shorter Sandro Jacardi or Cove Poncho meanwhile, can fold easily to handbag size when not being worn.
For Seminar Style, use your capsule wide leg pants and pair with a different top. Make a statement above the desk with a printed top - you'll be easy to identify and recognise. 
Creating a signature capsule conference wardrobe in complementing tones and prints will work to make memorable and easily identifiable in the minds of others.
"My Monroe Pant is such a great traveller. Wore them to recent conferences to America. Just love love that no ironing is required. Thanks L&F ♥️" - L.S. Brisbane, QLD
CONFERENCE OUTFIT #3 -NETWORKING NIGHTS
For conference networking nights, dress to impress. If it's a formal cocktail party affair then follow the cocktail dress code and go for a knee to midi length dress or skirt. Cocktail pant suits are the hottest alternative to event dresses. Pull off the look by choosing luxe fabrics with a velvet handfeel.
More versatile, an elegant jersey dress will suit a range of dress codes like for example, smart casual. A bold print will boost the impact but look too, to creative cuts like the pleats of the Myrtle Dress which add subtle drama to the skirt. 
Navy or black dresses are timeless whatever the event, and will give you another option for daywear when styled with more casual accessories. 
Conference Capsule: Your Conference Packing Checklist