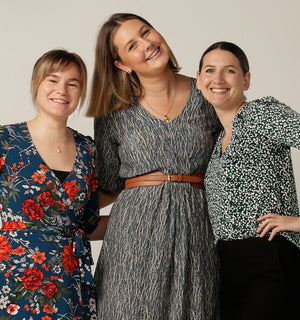 We all have our own unique qualities that make us who we are and our team members love to express themselves through their individual style. Whether it's wearing styles because of their functionality or fit or purely because of the way each garment makes them feel, our team have their go-to Leina & Fleur styles that help them to feel elevated and amplified.
Let's take a look at how our staff express their style and make their favourite Leina & Fleur pieces their own.
Lucja
Digital Ecommerce Supervisor
To know me is to know my love of pants. Wanting to wear them all year round means I need them to be warm for winter but cool on a summer's day. That's why Troy Pants are my new favourite piece. These pants have been designed to flatter a female figure and clever details like back seams create a modern look. Everyone who tries them on becomes instantly obsessed. For a casual weekend look, I pair my Troy Pants with white sneakers and my favourite Tahlia Top in Pinecone.
Hayley
MARKETING SUPERVISOR
As a busy working mum, I need to be comfortable but still look polished for work, so the Harvest Jumpsuit in Navy is my go-to style for any day of the week. I love its versatility and of course the comfort of jersey stretch! You can find me in my Harvest Jumpsuit on the weekend with sneakers, running the kids to sports or grocery shopping. I dress them up for work in the studio with a sling-back heel or chunky loafer and a pop of colour on my lips.
Jazzy
Junior Marketing Coordinator
It's so interesting that with all the options in the world for my wardrobe, my style continues to come back to Umbria print. I love its soft lines, beautiful hue and the fact that this print comes in one of my favourite fabrics Ecovero. It makes all garments breathable, comfortable and it flows impeccably. 
Daphne dress in Umbria flatters my figure and makes me feel feminine… that sense of gliding into the room! When I fall in love with a print, I also want more than one option so I can truly embrace it.
Anna J
Design/Product Development Coordinator
One of my favourite pieces is the Oona dress, I'm really drawn to its flattering length, which hits me on the knee-length (I'm 157cm/ 5.1 ft tall). I love this style as the play on scale and colour in the print is perfect for me. The gathers on the sleeve head and the way the design outlines my silhouette are a few of my favourite features. Oona is a functioning wrap, which means that I can play with different ways of tying her and pocket details make for a lovely mix between polished yet casual.
Tracey
Marketing Coordinator
'Style with comfort' is literally my mantra, and the Germaine Skirt in Black embodies this for me. Germaine is such a versatile staple that looks so luxe, so I wear her all year round. I love how the asymmetrical hemline adds a subtle point of difference and gives this style a modern feel. Not to mention that this skirt is a compliment magnet, so I know I look good, which means I feel fabulous!
You may also like View all
Your daily dose of inspiration